Serum Periostin Predicts Survival in Lung Cancer Patients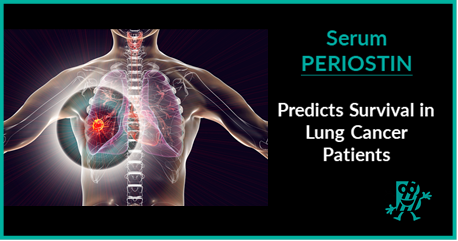 Serum Periostin Predicts Survival in Lung Cancer Patients
28 December, 2021
Biomedica´s Periostin ELISA kit has recently been featured in a clinical study for lung cancer. Lung adenocarcinoma is the most common type of lung cancer. When first diagnosed, between 30-50% of patients have bone metastasis with poor survival outcome. The extracellular matrix protein Periostin mediates the spreading of lung cancer. In vivo data suggest that bone metastatic lung cancer cells induce Periostin expression that may enhance cancer aggressivity. A recent report in patients with lung adenocarcinoma demonstrates that serum Periostin levels may be used as a prognostic biomarker to predict survival in lung cancer.
Learn more: Serum total periostin is an independent marker of overall survival in bone metastases of lung adenocarcinoma. Link to full text.
Massy E, Rousseau JC, Gueye M, Bonnelye E, Brevet M, Chambard L, Duruisseaux M, Borel O, Roger C, Guelminger R, Pialat JB, Gineyts E, Bouazza L, Millet M, Maury JM, Clézardin P, Girard N, Confavreux CB. J Bone Oncol. 2021. 29:100364. doi: 10.1016/j.jbo.2021.100364. PMID: 34150488; PMCID: PMC8190464.
Check out the Biomedica PERIOSTIN ELISA (cat.no. BI-20433)
• CONVENIENT – only 10µl sample volume
• RELIABLE – Full validation package
• Cited in clinical studies
• HIGH QUALITY GUARANTEED

Also available: Mouse Periostin ELISA (cat.no. BI-20433MS)
Serum total periostin is an independent marker of overall survival in bone metastases of lung adenocarcinoma
Abstract
More than 35% of lung adenocarcinoma patients have bone metastases at diagnosis and have a poor survival. Periostin, a carboxylated matrix protein, mediates lung cancer cell dissemination by promoting epithelial-mesenchymal transition, and is involved in bone response to mechanical stress and bone formation regulation. This suggests that periostin may be used as a biomarker to predict survival in lung cancer patients. Serum periostin was assessed at diagnosis in a prospective cohort of 133 patients with lung adenocarcinoma of all stages. Patients were divided into localized and bone metastatic groups. Both groups were matched to healthy controls. Survival analysis and Cox proportional hazards models were conducted in the total population and in bone metastatic group. The median serum periostin level was higher in bone metastatic (n = 67; median: 1752 pmol/L) than in the localized group (n = 66; 861 pmol/L; p < 0.0001). Patients with high periostin (>median) had a poorer overall survival in the whole population (33.3 weeks vs. NR; p < 0.0001) and the bone metastatic group (24.4 vs. 66.1 weeks; p < 0.001). In multivariate analysis, patients with high periostin had increased risk of death (HR = 2.09, 95%CI [1.06-4.13]; p = 0.03). This was also found in the bone metastatic group (HR = 3.62, 95%CI [1.74-7.52]; p = 0.0005). Immunohistochemistry on bone metastasis biopsies showed periostin expression in the bone matrix and nuclear and cytoplasmic staining in cancer cells. Serum periostin was an independent survival biomarker in all-stage and in bone metastatic lung adenocarcinoma patients. IHC data suggest that periostin might be induced in cancer cells in bone metastatic niche in addition to bone microenvironment expression.
Related publications
High serum levels of periostin are associated with a poor survival in breast cancer. Link to full text.
Rachner TD, Göbel A, Hoffmann O, Erdmann K, Kasimir-Bauer S, Breining D, Kimmig R, Hofbauer LC, Bittner AK.Breast Cancer Res Treat. 2020 Apr;180(2):515-524. doi: 10.1007/s10549-020-05570-0. Epub 2020 Feb 10.PMID: 32040688.
Abstract
Purpose: Periostin is a secreted extracellular matrix protein, which was originally described in osteoblasts. It supports osteoblastic differentiation and bone formation and has been implicated in the pathogenesis of several human malignancies, including breast cancer. However, little is known about the prognostic value of serum periostin levels in breast cancer. Methods: In this study, we analyzed serum levels of periostin in a cohort of 509 primary, non-metastatic breast cancer patients. Disseminated tumor cell (DTC) status was determined using bone marrow aspirates obtained from the anterior iliac crests. Periostin levels were stratified according to several clinical parameters and Pearson correlation analyses were performed. Kaplan-Meier survival curves were assessed by using the log-rank (Mantel-Cox) test. To identify prognostic factors, multivariate Cox regression analyses were used. Results: Mean serum levels of periostin were 505 ± 179 pmol/l. In older patients (> 60 years), periostin serum levels were significantly increased compared to younger patients (540 ± 184 pmol/l vs. 469 ± 167 pmol/l; p < 0.0001) and age was positively correlated with periostin expression (p < 0.0001). When stratifying the cohort according to periostin serum concentrations, the overall and breast cancer-specific mortality were significantly higher in those patients with high serum periostin (above median) compared to those with low periostin during a mean follow-up of 8.5 years (17.7% vs. 11.4% breast cancer-specific death; p = 0.03; hazard ratio 1.65). Periostin was confirmed to be an independent prognostic marker for breast cancer-specific survival (p = 0.017; hazard ratio 1.79). No significant differences in serum periostin were observed when stratifying the patients according to their DTC status. Conclusions: Our findings emphasize the relevance of periostin in breast cancer and reveal serum periostin as a potential marker for disease prediction, independent on the presence of micrometastases.
Overexpression of periostin predicts poor prognosis in non-small cell lung cancer. Link to full text.
Hong LZ, Wei XW, Chen JF, Shi Y.Oncol. Lett. 2013. 6:1595-1603. doi: 10.3892/ol.2013.1590. Epub 2013 Sep 18.PMID: 24273600.
Abstract
The periostin protein, encoded by the POSTN gene, is a component of the extracellular matrix, which is expressed by fibroblasts and has been observed in a variety of human malignancies. The present study aimed to detect the expression of periostin in the tissues of non-small cell lung cancer (NSCLC) patients and benign lung tumors, and to correlate the results with the clinicopathological data of the subjects, in order to evaluate periostin as a potential prognostic marker. In total, 49 NSCLC patients and 6 benign lung tumors were included in this study. The protein level of periostin was detected in paired normal/paratumor/cancer tissues by a western blot analysis and the mRNA level in paired normal/cancer tissues was detected by quantitative polymerase chain reaction (qPCR). The results were then correlated with established biological and prognostic factors. Immunohistochemistry was used to confirm the location of periostin in the NSCLC tissues. Uni- and multivariate analyses were performed using Cox's proportional hazards regression model. The protein level of periostin was elevated in the cancer tissue of the NSCLC patients compared with the normal (P=0.017) and paratumor (P=0.000) tissues. The expression level in the male patients was much higher than in the female patients at the protein (P=0.001) and mRNA (P=0.010) levels. The mRNA level in the non-adenocarcinoma (non-ADC) patients was much higher than in the adenocarcinoma (ADC) patients (P=0.029). Periostin was demonstrated higher expression at the protein level in the pseudotumors and tuberculosis patients than in the adjacent (P=0.016) and surrounding tissues (P=0.001). Immunostaining indicated that high levels of periostin were present in the mesenchymal areas, but not in the cancer cells themselves. The patients with tumors exhibiting high-level periostin expression showed a significantly shorter survival time (P=0.036, log-rank test). The 3-year survival rate was 81.5% for patients with low-level periostin expression (periostin-L; n=27) and 45.4% for patients with high-level periostin expression (periostin-H; n=22). Similarly, pathological node (pN) status was a significant prognostic marker in the univariate Cox survival analysis. Notably, periostin-H expression was also identified as an independent prognostic factor by the multivariate analysis (P=0.011). These results showed that the overexpression of periostin predicts a poor prognosis, therefore it may be regarded as a novel molecule in the progression and development of NSCLC. The results provide an additional target for the adjuvant treatment of NSCLC.
Predictive and prognostic value of serum periostin in advanced non-small cell lung cancer patients receiving chemotherapy. Zhang Y, Yuan D, Yao Y, Sun W, Shi Y, Su X. Tumour Biol. 2017. 39(5):1010428317698367. doi: 10.1177/1010428317698367. PMID: 28459197. Full text link.
Mutational profiling of bone metastases from lung adenocarcinoma: results of a prospective study (POUMOS-TEC). Confavreux CB, Girard N, Pialat JB, Bringuier PP, Devouassoux-Shisheboran M, Rousseau JC, Isaac S, Thivolet-Bejui F, Clezardin P, Brevet M. Bonekey Rep. 2014. 3:580. doi: 10.1038/bonekey.2014.75. PMID: 25328676; PMCID: PMC4181073. Full text link.
Diagnostic and prognostic value of serum periostin in patients with non-small cell lung cancer. Xu CH, Wang W, Lin Y, Qian LH, Zhang XW, Wang QB, Yu LK. Oncotarget. 2017. 8(12):18746-18753. doi: 10.18632/oncotarget.13004. PMID: 27816968; PMCID: PMC5386644. Full text link.
Related products:
DKK-1 (Dickkopf-1) ELISA kit – BI-20413 – Product link
Direct measurement – no sample pre-dilution
CE marked – for IVD use in the EU
Day test – all reagents included
Widely cited +160 references!
DKK1 promotes migration and invasion of non-small cell lung cancer via β-catenin signaling pathway. Zhang J, Zhang X, Zhao X, Jiang M, Gu M, Wang Z, Yue W Tumour Biol. 2017. 39(7):1010428317703820. doi: 10.1177/1010428317703820. PMID: 28677426. Full text link
Dickkopf-1: A Promising Target for Cancer Immunotherapy. Chu HY, Chen Z, Wang L, Zhang ZK, Tan X, Liu S, Zhang BT, Lu A, Yu Y, Zhang G. Front Immunol. 2021 May 20;12:658097. doi: 10.3389/fimmu.2021.658097. PMID: 34093545; PMCID: PMC8174842. Full text link
Leucine-rich alpha-2-glycoprotein (LRG) ELISA kit – BI-LRG1 – Product link
DAY Test – results in 3.5 h
RELIABLE – rigorously validated according to FDA/ICH/EMA guidelines
ALL reagents included – controls and sufficient amounts of buffers
Specific recombinant epitope-mapped antibodies

Leucine-rich α-2-glycoprotein promotes TGFβ1-mediated growth suppression in the Lewis lung carcinoma cell lines. Oncotarget. Takemoto N, Serada S, Fujimoto M, Honda H, Ohkawara T, Takahashi T, Nomura S, Inohara H, Naka T. 2015. 10;6(13):11009-22. doi: 10.18632/oncotarget.3557. PMID: 25826092; PMCID: PMC4484435. Full text link.
Exosomal Leucine-Rich-Alpha2-Glycoprotein 1 Derived from Non-Small-Cell Lung Cancer Cells Promotes Angiogenesis via TGF-β Signal Pathway. Li Z, Zeng C, Nong Q, Long F, Liu J, Mu Z, Chen B, Wu D, Wu H. Mol Ther Oncolytics. 2019. 7;14:313-322. doi: 10.1016/j.omto.2019.08.001. PMID: 31528707; PMCID: PMC6739429. Full text link.
Detection of leucine-rich alpha-2-glycoprotein 1-containing immunocomplexes in the plasma of lung cancer patients with epitope-specific mAbs. Lázár J, Kovács A, Tornyi I, Takács L, Kurucz I. Cancer Biomark. 2021 Nov 1. doi: 10.3233/CBM-210164. Epub ahead of print. PMID: 34744074. Abstract link.
Check out Biomedica's Cytokine ELISA kits using specific recombinant epitope-mapped antibodies:
Interleukin-6 (IL-6) ELISA – BI-IL6 – product link
Vasular Endothelial Growth Factor (VEGF) ELISA – BI-VEGF – product link
Angiopoietin-2 ELISA -BI-ANG2 – product link