Testing Cell Viability in Breast Cancer Cells with EZ4U - MTT Assay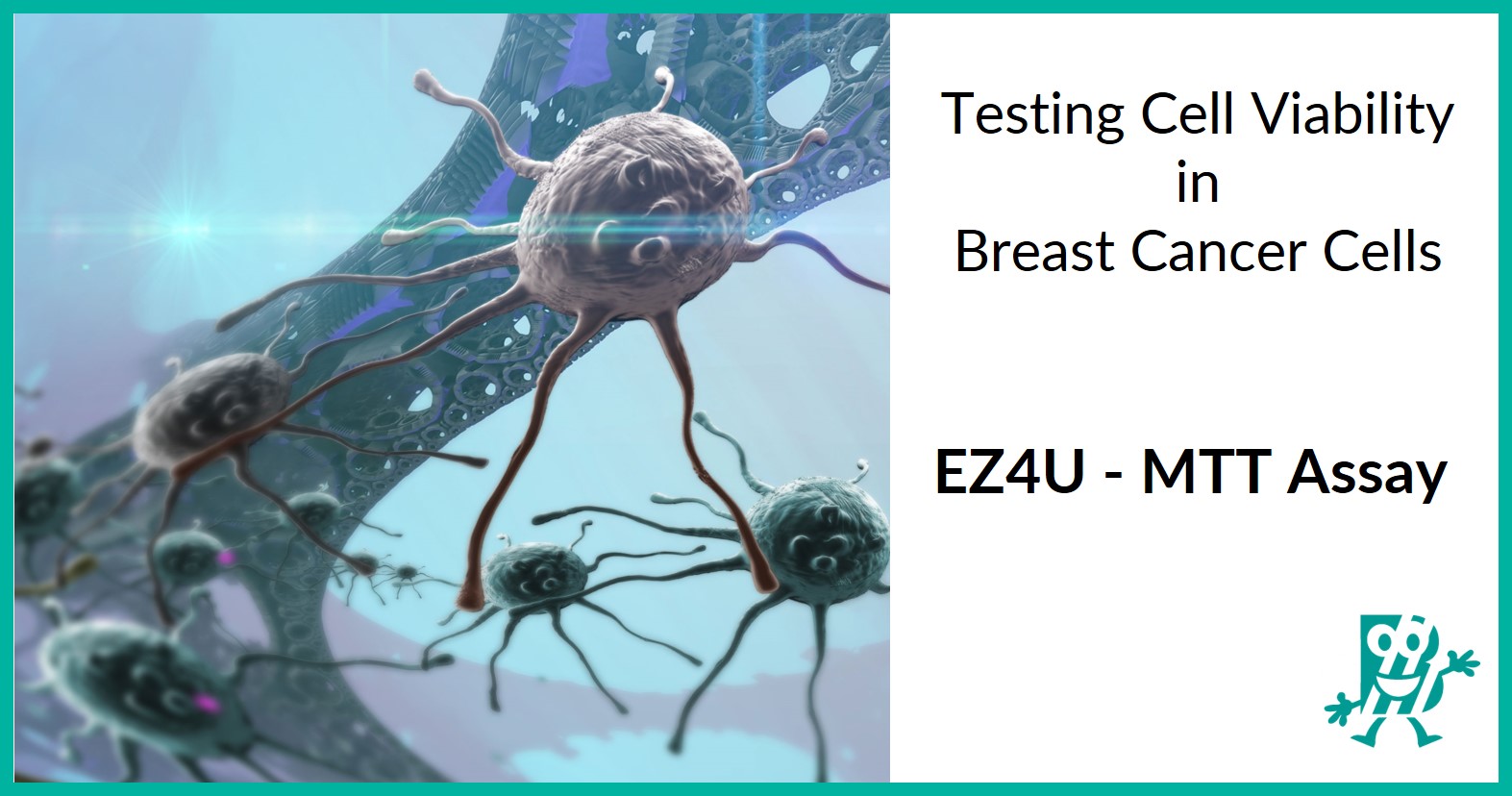 Testing Cell Viability in Breast Cancer Cells with EZ4U - MTT Assay
24 October, 2023
Testing Cell Viability in Breast Cancer Cells with EZ4U – MTT Assay: In search for novel and effective drugs that don't induce resistance or toxic effects the BIOMEDICA EZ4U – MTT Cell Viabilty Assay was used investigating various protein kinase C isoforms of Royleanones on the activity of breast cancer cell lines.
Royleanosones derive from plants from the genus Plectranthus with different varieties found throughout tropical Africa, Asia, and Australia. Various cytotoxic compounds with notable activities have been isolated from this plant. Learn more: Activity to Breast Cancer Cell Lines of Different Malignancy and Predicted Interaction with Protein Kinase C Isoforms of Royleanones.
Testing Cell Viability in Breast Cancer Cells with EZ4U – MTT Assay
In this study three natural Royleanones were tested for their inhibitory effects in three breast cancer cell lines namely: MCF-7 (high expression of estrogen receptors), SkBr3 (high expression of Her2NEU ), and SUM159 (negative for both hormone receptors and for Her2).
In brief: the cell lines were grown at 37°C with 5% CO2. To test cell viability, cells were seeded at 10.000 cells per well and left for 24h. After cell attachment they were treated with various concentrations of the three natural Royleanones compounds and incubated for 24h. Cell viability was assayed with the EZ4U – MTT assay (Biomedica, Austria).
Short description: 20µl of the EZ4U substance (colorless non-toxic tetrazolium salts) was first added to each well. The mitochondria of the living cells oxidize the EZ4U substance to a yellow-colored formazan derivate. The color change is measured on a conventional plate reader at 450 nm using a reference wavelength of 620 nm.
Non-radioactive & non-toxic assay
Reliable & Sensitive
Convenient single-step incubation  – for use on living cells
Widely cited in more than 250 publications
Find out more: 
BROCHURE – EZ4U cell proliferation and cytotoxicity assay.
Citations using the BIOMEDICA EZ4U Assay (cat. no. BI-5000) in various cell-lines
Study on Anticancer Activity of 4, 4′-[1,4-phenylenebis(1,3,4-thiadiazole-5,2-diyl)] bis (azaneylylidene) bis (methaneylylidene) diphenolon Breast Cancer Cells. Saeed BMS et al., Arch Razi Inst. 2021; 76(4):821-827. 
Aberrant DNA Methylation, Expression, and Occurrence of Transcript Variants of the ABC Transporter ABCA7 in Breast Cancer. Zappe K et al., Cells. 2023;  24;12(11):1462. 
AQP3-Dependent PI3K/Akt Modulation in Breast Cancer Cells. Mlinarić M et al., Int J Mol Sci. 2023; 1;24(9):8133. 
Identification of F-Box/SPRY Domain-Containing Protein 1 (FBXO45) as a Prognostic Biomarker for TMPRSS2-ERG-Positive Primary Prostate Cancers. von Danwitz M et al.,  Cancers (Basel). 2023; 21;15(6):1890. 
Dual targeting of BCL-2 and MCL-1 in the presence of BAX breaks venetoclax resistance in human small cell lung cancer. Valko Z et al., Br J Cancer. 2023; 128(10):1850-1861. 
for more citations click here