Predictive power of preoperative FGF23 levels in patients undergoing cardiac surgery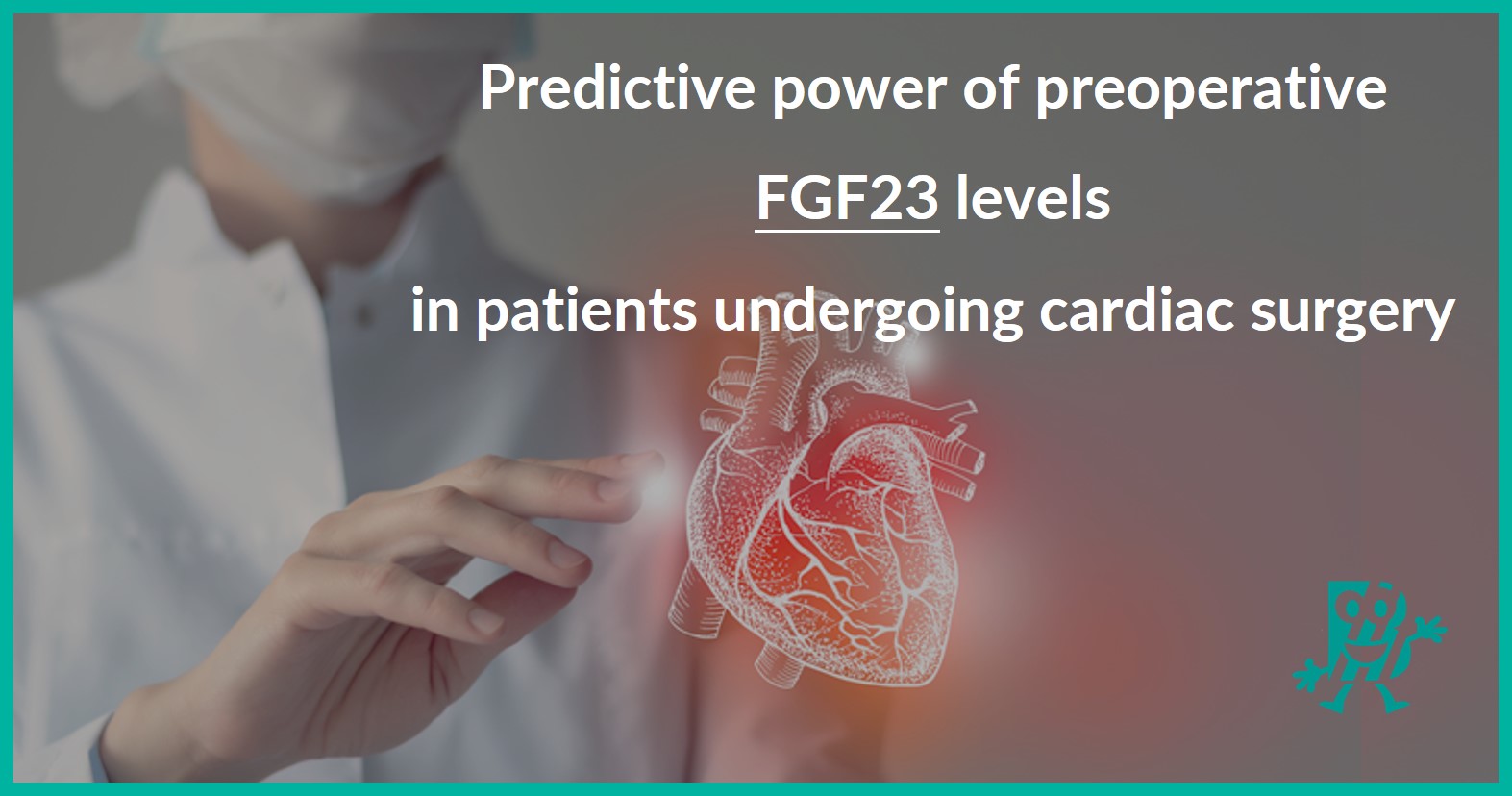 Predictive power of preoperative FGF23 levels in patients undergoing cardiac surgery
12 September, 2023
The development of heart failure is a concerning complication for patients who undergo heart valve and/or coronary bypass grafting surgery. In this context, risk prediction tools for patients undergoing cardiac surgery are of great interest. This article highlights a recent study investigating the predictive power of preoperative FGF23 levels in patients undergoing cardiac surgery.
Fibroblast growth factor 23 (FGF23)
Fibroblast growth factor 23 (FGF23) is a protein that plays a vital role in regulating phosphate and vitamin D levels and is associated with an elevated cardiovascular risk. A recent study by Hofer F et al.,  aimed to explore how FGF23 affects cardiovascular outcomes in a group of patients who underwent cardiac surgery. The analysis included a cohort of 451 patients who were observed for a median duration of 3.9 years. The results indicated that individuals with higher FGF23 levels showed elevated incidence of cardiovascular death. Therefore, the assessment of FGF23 may be a tool for risk stratification and could allow early identification of patients who have a high risk for adverse cardiovascular outcomes.
"Plasma FGF‐23 concentrations were assessed with a sandwich enzyme immunoassay (Biomedica Medizinprodukte GmbH, Vienna, Austria). The intra‐assay and interassay precision values were ≤12% and ≤10%, respectively. The assay limit of detection (0 pmol/L+3 SDs) was 0.08 pmol/L. For better clinical evaluation, FGF‐23 was converted to units of pg/mL, with a conversion factor of 1 pg/mL=0.133 pmol/L."
Predictive power of preoperative FGF23 levels in patients undergoing cardiac surgery
Routine measurement of preoperative FGF23 levels may improve the detection of high-risk patients undergoing cardiac surgery.
 BIOMEDICA  FGF23 ELISA assays for  serum & plasma samples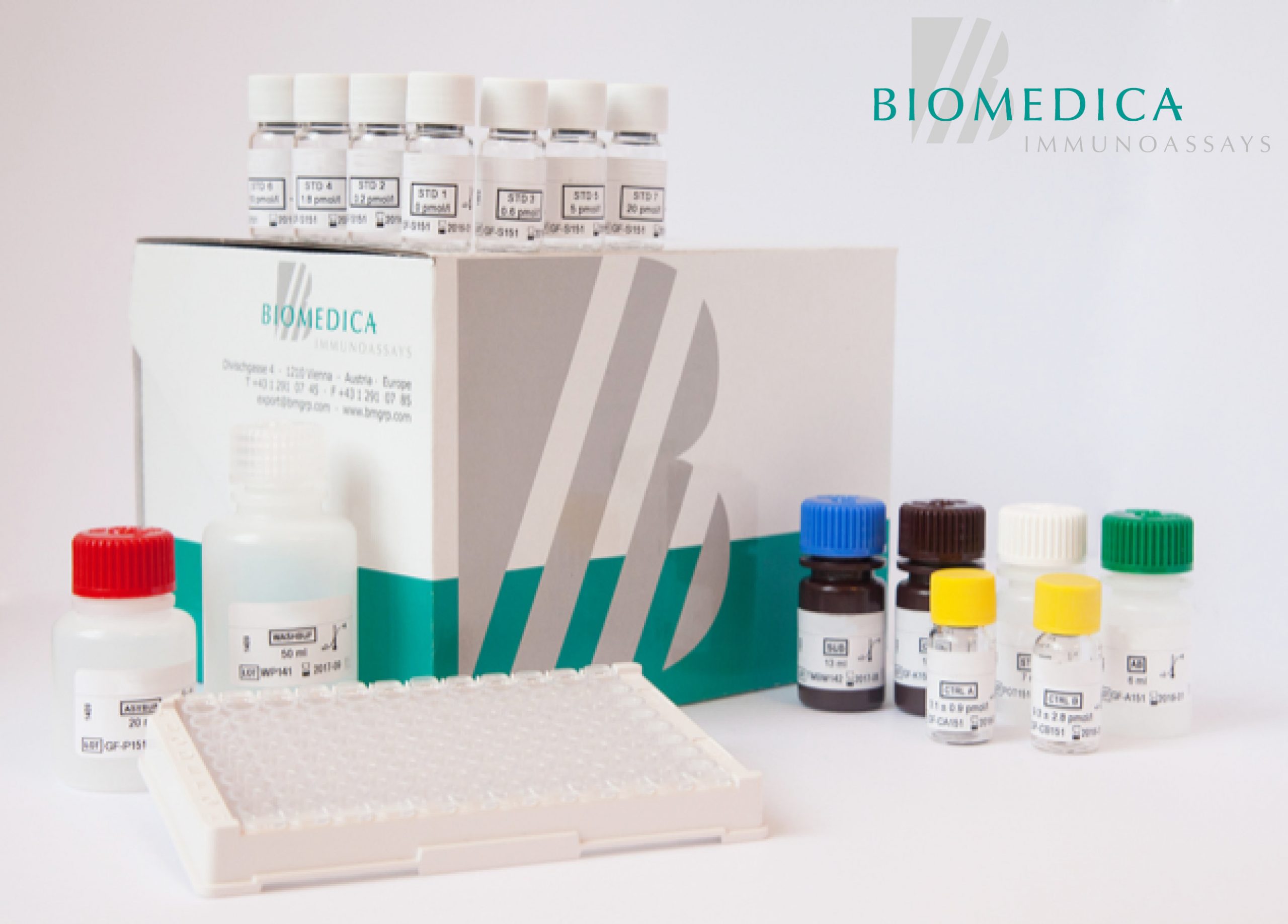 FGF23 (c-terminal) ELISA (cat. no BI-20702) and FGF23 intact ELISA (cat. no.  BI-20700)
Related Publications
Relationship of Fibroblast Growth Factor 23 With Hospitalization for Heart Failure and Cardiovascular Outcomes in Patients Undergoing Cardiac Surgery. Hofer F, Hammer A, Pailer U, Koller L, Kazem N, Steinacher E, Steinlechner B, Andreas M, Laufer G, Wojta J, Zelniker TA, Hengstenberg C, Niessner A, Sulzgruber P. J Am Heart Assoc. 2023 Mar 7;12(5):e027875. doi: 10.1161/JAHA.122.027875. Epub 2023 Feb 21. PMID: 36802737; PMCID: PMC10111457.
Abstract
Background Fibroblast growth factor 23 (FGF-23) is crucial in regulating phosphate and vitamin D metabolism and is moreover associated with an increased cardiovascular risk. The specific objective of this study was to investigate the influence of FGF-23 on cardiovascular outcomes, including hospitalization for heart failure (HHF), postoperative atrial fibrillation, and cardiovascular death, in an unselected patient population after cardiac surgery. Methods and Results Patients undergoing elective coronary artery bypass graft and/or cardiac valve surgery were prospectively enrolled. FGF-23 blood plasma concentrations were assessed before surgery. A composite of cardiovascular death/HHF was chosen as primary end point. A total of 451 patients (median age 70 years; 28.8% female) were included in the present analysis and followed over a median of 3.9 years. Individuals with higher FGF-23 quartiles showed elevated incidence rates of the composite of cardiovascular death/HHF (quartile 1, 7.1%; quartile 2, 8.6%; quartile 3, 15.1%; and quartile 4, 34.3%). After multivariable adjustment, FGF-23 modeled as a continuous variable (adjusted hazard ratio for a 1-unit increase in standardized log-transformed biomarker, 1.82 [95% CI, 1.34-2.46]) as well as using predefined risk groups and quartiles remained independently associated with the risk of cardiovascular death/HHF and the secondary outcomes, including postoperative atrial fibrillation. Reclassification analysis indicated that the addition of FGF-23 to N-terminal pro-B-type natriuretic peptide provides a significant improvement in risk discrimination (net reclassification improvement at the event rate, 0.58 [95% CI, 0.34-0.81]; P<0.001; integrated discrimination increment, 0.03 [95% CI, 0.01-0.05]; P<0.001). Conclusions FGF-23 is an independent predictor of cardiovascular death/HHF and postoperative atrial fibrillation in individuals undergoing cardiac surgery. Considering an individualized risk assessment, routine preoperative FGF-23 evaluation may improve detection of high-risk patients.
A single preoperative FGF23 measurement is a strong predictor of outcome in patients undergoing elective cardiac surgery: a prospective observational study. Speer T, Groesdonk HV, Zapf B, Buescher V, Beyse M, Duerr L, Gewert S, Krauss P, Poppleton A, Wagenpfeil S, Fliser D, Schaefers HJ, Klingele M.Crit Care. 2015 Apr 23;19(1):190. doi: 10.1186/s13054-015-0925-6. PMID: 25902817; PMCID: PMC4424828.