First bioactive Sclerostin ELISA for clinical samples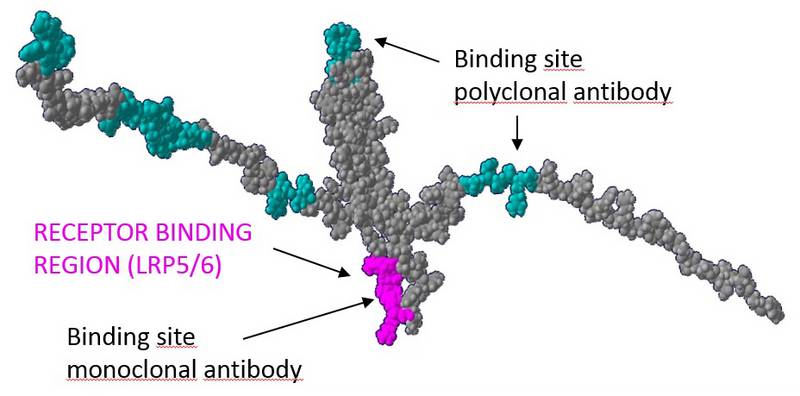 First bioactive Sclerostin ELISA for clinical samples
19 March, 2019
The only Sclerostin ELISA that utilizes specific EPITOPE MAPPED ANTIBODIES enabling the analysis of bioactive Sclerostin in clinical samples. 
Bioactive Sclerostin ELISA (cat.no. BI-20472) Assay Highlights:
HIGHLY SPECIFIC and DEFINED: capture antibody directed against Sclerostin's bioactive site. Learn more
RELIABLE: human serum based calibrators and controls, rigorously validated
LOW SAMPLE VOLUME: 20 µl / well
QUICK: total incubation time 3.5 h
First bioactive Sclerostin ELISA for clinical samples
Areas of interest: osteoporosis, cancer induced bone diseases, rheumatoid arthritis, chronic inflammation, kidney diseases, therapy monitoring of anabolic treatment.
For detailed information please click corresponding links:
BI-20472 bioactive Sclerostin product website
BI-20472 bioactive Sclerostin ELISA IFU
BI-20472 bioactive Sclerostin ELISA Validation Data
BI-20472 bioactive Sclerostin ELISA MSDS
RELATED PUBLICATIONS
Circulating bioactive sclerostin levels in an Austrian population-based cohort. Kerschan-Schindl K, Föger-Samwald U, Gleiss A, Kudlacek S, Wallwitz J, Pietschmann P. Wien Klin Wochenschr. 2022 Jan;134(1-2):39-44. doi: 10.1007/s00508-021-01815-0. Epub 2021 Feb 5. PMID: 33544208; PMCID: PMC8813720.
Abstract
Background: Circulating serum sclerostin levels are supposed to give a good estimation of the levels of this negative regulator of bone mass within bone. Most studies evaluating total serum sclerostin found different levels in males compared to females and in older compared to younger subjects. Besides an ELISA detecting total sclerostin an ELISA determining bioactive sclerostin has been developed. The aim of this study was to investigate serum levels of bioactive sclerostin in an Austrian population-based cohort.
Methods: We conducted a cross-sectional observational study in 235 healthy subjects. Using the bioactive ELISA assay (Biomedica) bioactive sclerostin levels were evaluated.
Results: Serum levels of bioactive sclerostin were higher in men than in women (24%). The levels correlated positively with age (r = 0.47). A positive correlation could also be detected with body mass index and bone mineral density.
Conclusion: Using the ELISA detecting bioactive sclerostin our results are consistent with data in the literature obtained by different sclerostin assays. The determination of sclerostin concentrations in peripheral blood thus appears to be a robust parameter of bone metabolism.