EZ4U Cell Proliferation & Cytotoxicity Assay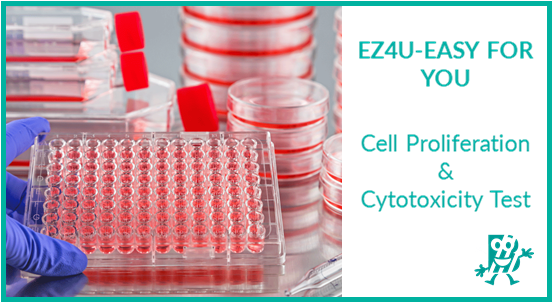 EZ4U Cell Proliferation & Cytotoxicity Assay
10 May, 2022
The Biomedica EZ4U cell viability and proliferation assay was highlighted in a study demonstrating that fasting improved the therapeutic response in liver cancer. As certain therapies are severely limited by resistance, the results may drive clinical studies aimed at improving therapy response. The results have been published by Jelena Krstic and colleagues in Science Advances in January 2022: Fasting improves therapeutic response in hepatocellular carcinoma through p53-dependent metabolic synergism.
√  Non-Radioactive & Non-Toxic
√  Reliable & Sensitive
√  Convenient single-step incubation for use on living cells
√  Widely cited  +195 publications
Check out the EZ4U Brochure link
Fasting improves therapeutic response in hepatocellular carcinoma through p53-dependent metabolic synergism.
Krstic J, Reinisch I, Schindlmaier K, Galhuber M, Riahi Z, Berger N, Kupper N, Moyschewitz E, Auer M, Michenthaler H, Nössing C, Depaoli MR, Ramadani-Muja J, Usluer S, Stryeck S, Pichler M, Rinner B, Deutsch AJA, Reinisch A, Madl T, Chiozzi RZ, Heck AJR, Huch M, Malli R, Prokesch A. Sci Adv. 2022 Jan 21;8(3):eabh2635. doi: 10.1126/sciadv.abh2635. Epub 2022 Jan 21. PMID: 35061544; PMCID: PMC8782451.
Abstract
Cancer cells voraciously consume nutrients to support their growth, exposing metabolic vulnerabilities that can be therapeutically exploited. Here, we show in hepatocellular carcinoma (HCC) cells, xenografts, and patient-derived organoids that fasting improves sorafenib efficacy and acts synergistically to sensitize sorafenib-resistant HCC. Mechanistically, sorafenib acts noncanonically as an inhibitor of mitochondrial respiration, causing resistant cells to depend on glycolysis for survival. Fasting, through reduction in glucose and impeded AKT/mTOR signaling, prevents this Warburg shift. Regulating glucose transporter and proapoptotic protein expression, p53 is necessary and sufficient for the sorafenib-sensitizing effect of fasting. p53 is also crucial for fasting-mediated improvement of sorafenib efficacy in an orthotopic HCC mouse model. Together, our data suggest fasting and sorafenib as rational combination therapy for HCC with intact p53 signaling. As HCC therapy is currently severely limited by resistance, these results should instigate clinical studies aimed at improving therapy response in advanced-stage HCC.
The experimental set up is outlined in the "Material and Methods" section in the publication:  Cell viability of HepG2 cells was analyzed using EZ4U assay (Biomedica Immunoassays).
How does the EZ4U cell proliferation assay work?
The EZ4U assay kit is a simple non-radioactive two to five-hour test that employs tetrazolium salts. These are non-toxic and are reduced to colored formazan. The assay discriminates between living and dead cells as the reduction process requires functional mitochondria that are inactivated within a few minutes after cell death. The assay procedure is identical to the 3H incorporation assays and does not require any change in the test protocol, thus offering the benefit of utilizing a non-radioactive substance.
Of note is the possibility to re-cultivate the cells after determining the cell number. The EZ4U assay has been cited in over 195 publications. Product code: BI-5000.
Method:
√  Water-soluble tetrazolium compound penetrates cell membrane
√  In mitochondria reduction to intense coloured formazan which is also water-soluble
√  Formazan is secreted into culture medium
√  Measured by ELISA reader (450 nm or 492 nm)
Kit specifications:
√  Substrate, lyophilised 10 vials
√  Activator solution, ready to use 1 x 30 ml
√  Sufficient reagents for 10 x 96 tests microtiterplates
√  Sample type: culture medium
√  Sample size: 200 µl / test
√  Detection limit: depending on cell lines. Examples are shown in the product insert
√  Incubation time: 2h – 5h
The EZ4U assay was also highlighted in a recent study:
Syndecan-4 Is a Key Facilitator of the SARS-CoV-2 Delta Variant's Superior Transmission.
Hudák A, Veres G, Letoha A, Szilák L, Letoha T. Int J Mol Sci. 2022 Jan 12;23(2):796. PMID: 35054983.
Abstract
Emerging SARS-CoV-2 variants pose threats to vaccination campaigns against COVID-19. Being more transmissible than the original virus, the SARS-CoV-2 B.1.617 lineage, named the Delta variant, swept through the world in 2021. The mutations in the Delta's spike protein shift the protein towards a net positive electrostatic potential. To understand the key molecular drivers of the Delta infection, we investigate the cellular uptake of the Delta spike protein and Delta spike-bearing SARS-CoV-2 pseudoviruses. Specific in vitro modification of ACE2 and syndecan expression enabled us to demonstrate that syndecan-4, the syndecan isoform abundant in the lung, enhances the transmission of the Delta variant by attaching its mutated spike glycoprotein and facilitating its cellular entry. Compared to the wild-type spike, the Delta one shows a higher affinity towards heparan sulfate proteoglycans than towards ACE2. In addition to attachment to the polyanionic heparan sulfate chains, the Delta spike's molecular interactions with syndecan-4 also involve syndecan-4's cell-binding domain that mediates cell-to-cell adhesion. Regardless of the complexity of these interactions, exogenously added heparin blocks Delta's cellular entry as efficiently as syndecan-4 knockdown. Therefore, a profound understanding of the molecular mechanisms underlying Delta infections enables the development of molecularly targeted yet simple strategies to reduce the Delta variant's spread.
The experimental set up is outlined in the "Material and Methods" section in the publication:  Cellular viability of 293T and 293T-ACE2 cells was measured with EZ4U assay.