Effects of FGF23 on the heart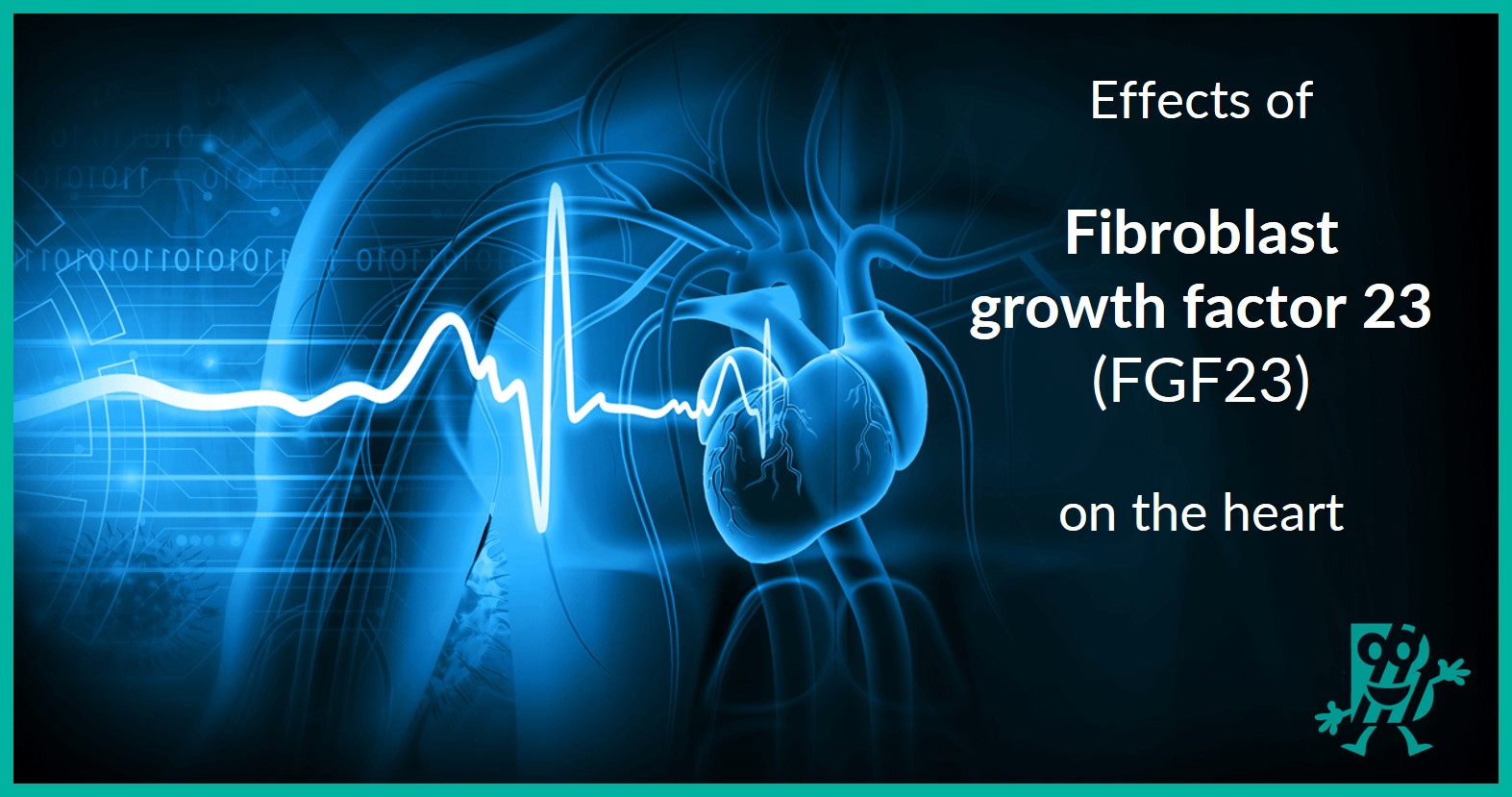 Effects of FGF23 on the heart
24 May, 2023
Fibroblast growth factor 23 (FGF23) is a hormone that plays a crucial role in regulating serum phosphate and vitamin D levels within the body. FGF23 is primarily produced in the bone by osteocytes and osteoblasts in response to factors such as oral phosphate intake or elevated serum Vitamin D concentrations. The regulation of normal serum phosphorus levels is primarily achieved through a highly controlled process occurring in the kidney where phosphate reabsorption takes place. Patients suffering from chronic kidney disease (CKD) have high plasma FGF23 levels and FGF23 serves as a sensitive biomarker for detecting abnormal renal phosphate handling. Notably, FGF23 levels increase during the early stages of kidney dysfunction, providing valuable insights into the underlying renal impairments (1, 2).
Effects of FGF23 on the heart
High FGF23 concentrations have been found to be associated with multiple cardiac diseases, including left ventricular hypertrophy, heart attacks, heart failure, and cardiovascular related deaths (3-5).
Present findings exploring the relationship of FGF23 and cardiac events are presented in a recent review. The authors further discuss the potential mechanisms by which FGF23 directly or indirectly triggers left ventricular hypertrophy (6). 
Learn more: Direct and indirect effects of fibroblast growth factor 23 on the heart. Nakano T et al., 2023.
Download our leaflet "FGF23 – an overview" here
How can FGF23 be measured?
Circulating FGF23 concentrations can be measured through blood tests by immunoassays. A widely used method for measuring FGF23 is with an ELISA assay (enzyme-linked immunosorbent assays). FGF23 ELISA assays utilize specific antibodies that recognize and bind FGF23 present in the sample.
Currently, there are two different assays commercially available for measuring circulating FGF23 in blood samples (7).
Intact FGF23 Assays
intact FGF23 (iFGF23) represents the full length, biologically active form of the hormone. It consists of the complete FGF23 protein structure without being enzymatically cleaved. The two antibodies in these assays target the N-terminal part and the C-terminal domain of the FGF23 molecule, respectively.
FGF23 C-terminal Assays
The c-terminal fragments of FGF23 (cFGF23) are the result of the enzymatic cleavage of the intact FGF23 molecule. The antibodies utilized in the cFGF23 assays bind to specific epitopes that are located in the c-terminal domain of the FGF23 molecule.
Noteworthy, all commercially available FGF23 c-terminal assays detect both c-terminal FGF23 fragments as well as the intact FGF23 molecule (7).
BIOMEDICA has developed two distinct ELISA assays to reliably quantify FGF23 concentrations in human serum and plasma.
·       FGF23 intact ELISA (cat. no. BI-20700)
·       FGF23 (C-terminal) ELISA (cat. no. BI-20702)
All Assays are Developed & Manufactured by Biomedica
Literature