Diabetes and Heart Disease - Risk stratification with NT-proBNP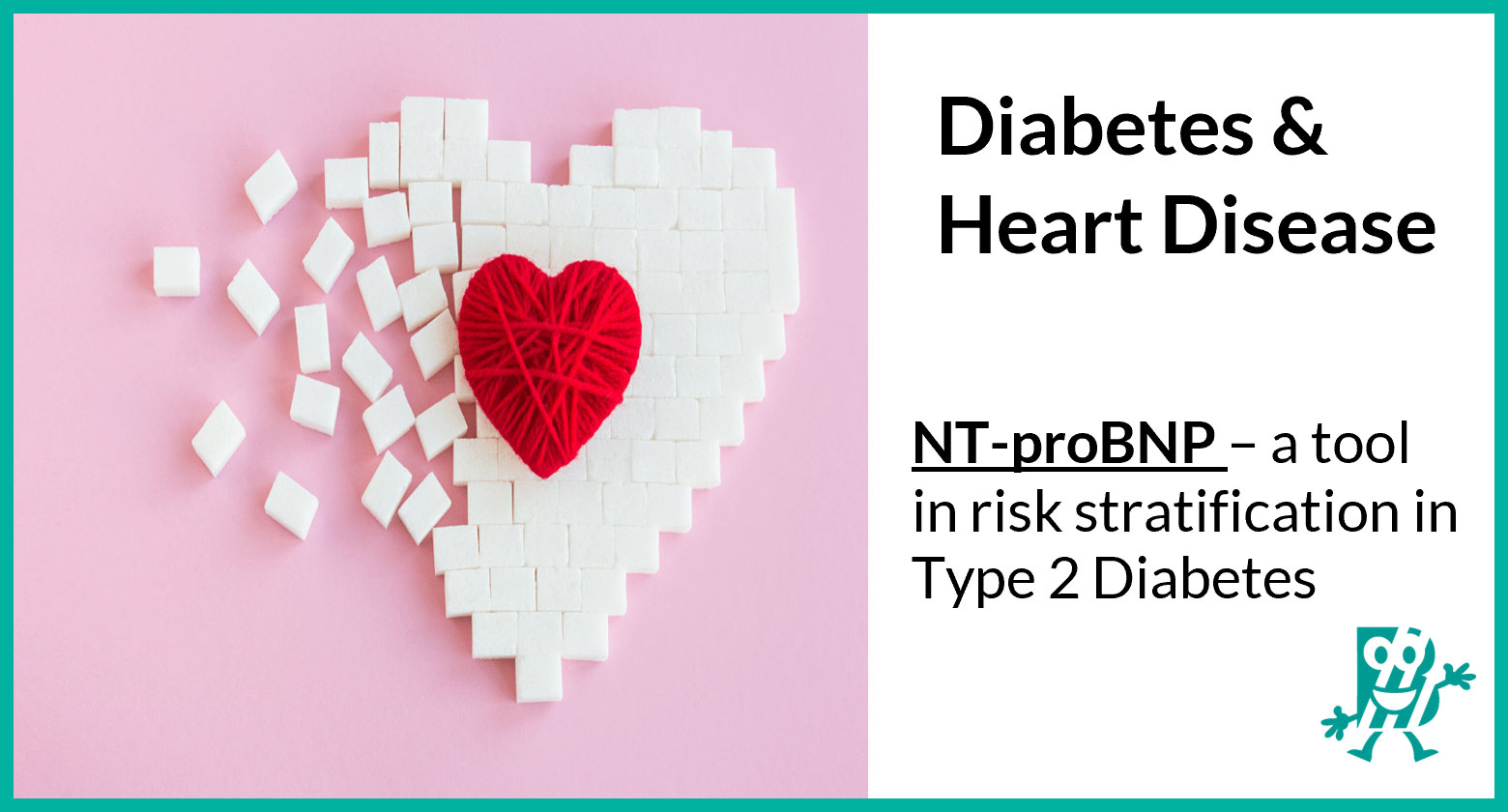 Diabetes and Heart Disease - Risk stratification with NT-proBNP
21 November, 2023
November is recognized as Diabetes Awareness Month, raising attention about diabetes and the importance of prevention and management of the disease that impacts millions of people worldwide.
Diabetes and Heart Disease – Risk stratification with NT-proBNP
Diabetes and heart disease are closely linked and patients suffering from diabetes have a 2- to 4 fold increased risk for developing cardiovascular diseases (CVD)  and concomitant heart failure (HF). Furthermore, HF patients with diabetes mellitus (DM) have a worse prognosis that those patients without DM (1, 2). In individuals with type 2 diabetes, high blood sugar levels and insulin resistance can lead to inflammation and atherosclerosis, a disease where arteries narrow, increasing the risk of CVD. Altered blood sugar levels are often associated with other CV risk factors, such as hypertension and obesity (3).
Diabetes and Heart Disease – Risk stratification with NT-proBNP 
Identifying patients who are at risk in developing HF remains a clinical challenge. Assessing the risk of HF development in patients with diabetes is important and the use of biomarkers could be beneficial (4). NT-proBNP, a protein that is specifically secreted by cardiac cells, is the "gold standard" biomarker for heart failure (5, 6). In patients with type 2 diabetes, NT-proBNP has been shown to predict death and cardiovascular events (7, 8). Moreover, a recent study investigated the relationships of NT-proBNP with the risk of developing diabetes and diabetes-related complication in initially healthy individuals (9). NT-pro BNP levels were measured in blood samples in a large cohort (European Prospecive Investigation Into Cancer and Nutrition) of over 27,000 individuals. The study demonstrated that NT-proBNP concentrations were inversely associated with the risk of type 2 diabetes in healthy individuals. Higher NT-proBNP levels are related to a higher risk of vascular disease in people who develop the disease. The authors conclude that NT-proBNP may be a promising biomarker to identify asymptomatic individuals who are at high risk developing diabetes independent of potential confounders.
NT-proBNP can be reliably measured in SERUM & PLASMA with a conventional ELISA assay.
NT-proBNP ELISA assay highlights (cat. no. SK-1204)
RELIABLE – CE marked  –  for IVD use in the EU
FLEXIBLE & EASY–  can be run in every lab
CONVENIENT – Two controls included
Assay independently validated in saliva samples
Proficiency tested in accredited laboratory program Proficiency Testing Certificate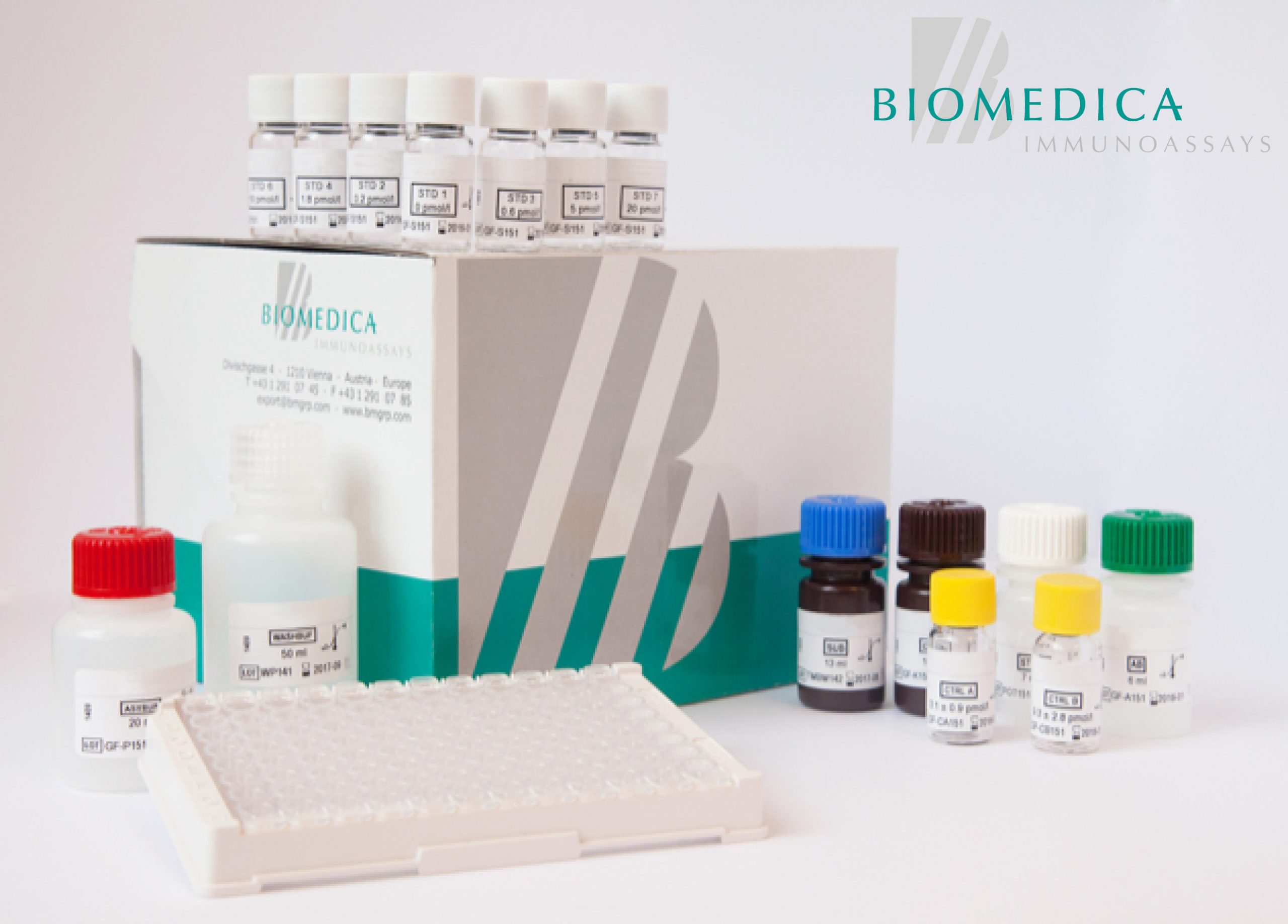 Example of a BIOMEDICA ELISA assay test kit.
NT-proBNP ELISA (#SK-1204) click here for more information

Related products
NT-proANP ELISA (cat. no. BI-20892) – for human and rodent samples (10µl sample volume)
Rat NT-proBNP ELISA (cat. no. BI-1204R)  (10µl sample volume)
Literature