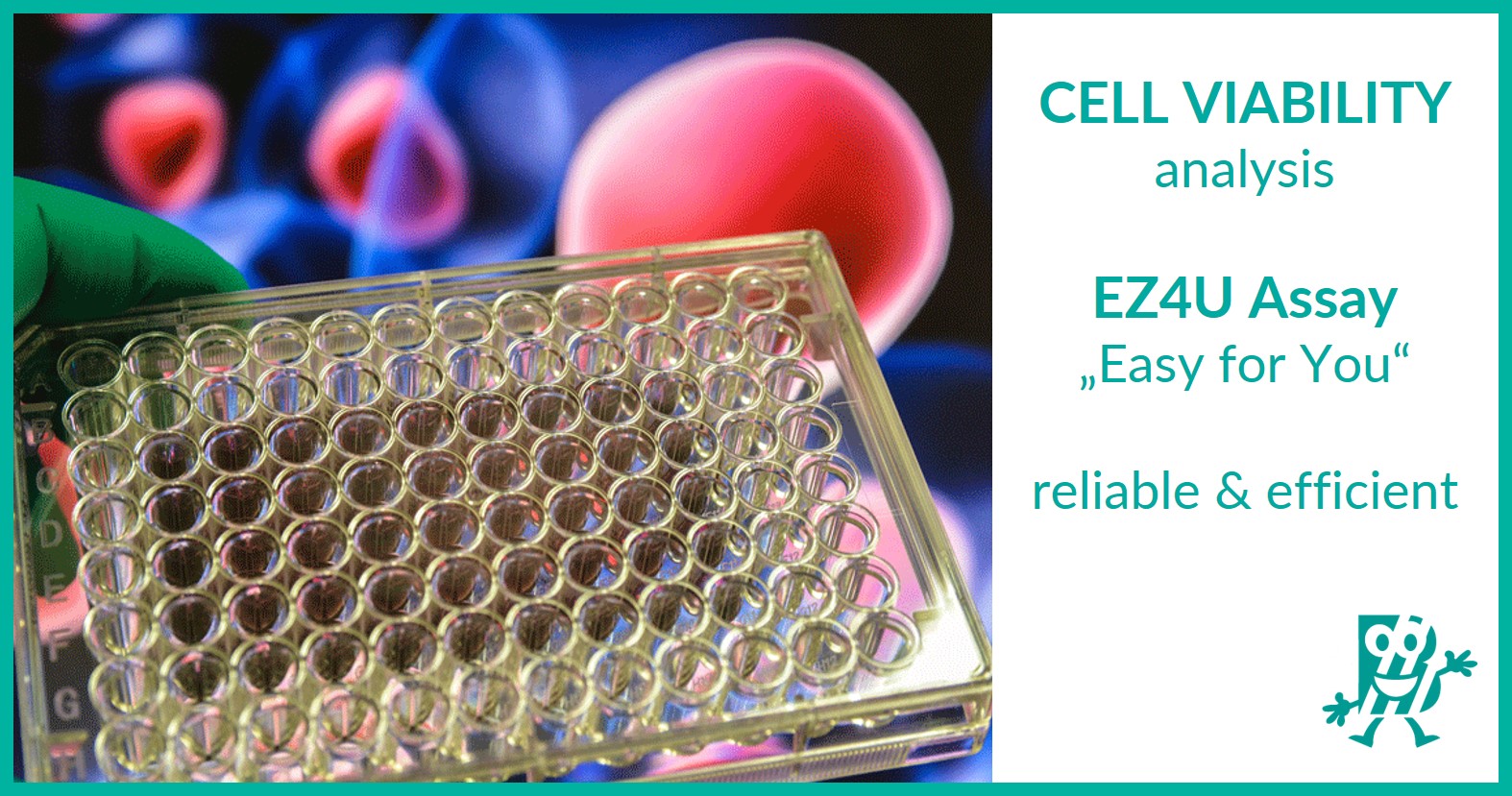 Cell Viability Analysis
6 June, 2023
EZ4U –  Easy and Reliable Assay for Cell Viability Analysis
Cell viability quantifies the percentage of living and healthy cells within a given cell population. Cell viability analysis assays are employed to assess cell survival for instance after treatment with substances during drug screening.
Testing of Cell Viability with Biomedica´s EZ4U Assay
The EZ4U assay is a metabolic assay (like the MTT assay) that quantifies cell health by measuring the reduction of the colorimetric substrate through the activity of mitochondrial enzymes.
Cell viability assays are widely used in cell biology research. The EZ4U test kit is a reliable and straightforward non-radioactive assay that can be completed within two to five hours, depending on the cell type studied. The EZ4U assay employs non-toxic tetrazolium salts, which are converted into colored formazan. As the reduction process relies on functional mitochondria that become inactive shortly after cell death, this method effectively distinguishes between living and dead cells. Furthermore, as the assay procedure is identical to thymidine incorporation procedure, no changes in test protocols are necessary. An additional benefit is the ability to continue cultivation after determining cell numbers.
The EZ4U cell proliferation and cytotoxicity assay is highly suited for testing cell viability in a number of different cell types. For examples please follow the citations by clicking this link.
EZ4U Cell Proliferation and  Cytotoxicity Assay –straightforward with a single incubation step using living cells
The EZ4U assay (Biomedica, Austria) was used in a recent study investigating the effects of RNA methylation, namely m6A methylation, on the renal cell carcinoma (ACHN and 769P) cell lines. Renal cell carcinoma (RCC) accounts for about 2% of cancer-related deaths. Patients with metastatic RCC have a poor prognosis with an approximate 5% survival rate. Despite therapeutical advancements, including checkpoint immunotherapy,  the improvement in patient survival rates has been rather moderate.
Learn more: Depletion of the m6A demethylases FTO and ALKBH5 impairs growth and metastatic capacity through EMT phenotype change in clear cell renal cell carcinoma. Hu W, Klümper N, Schmidt D, Ritter M, Ellinger J, Hauser S. Am J Transl Res. 2023 Mar 15;15(3):1744-1755. PMID: 37056835; PMCID: PMC10086911.
Abstract
Background: N6-methyladenosine (m6A) is one of the most common RNA modifications in eukaryotes and has effects on RNA structure and stability. Recent studies have shown that m6A methylation is involved in human carcinogenesis. In the present study, we investigated the effects of m6A demethylases FTO and ALKBH5 on renal cell carcinoma (RCC) cell lines. Methods: The epithelial-mesenchymal in vitro knockdowns of FTO and ALKBH5 induced by antisense oligonucleotides (LNA-GapmeR system) were established in RCC cell lines. Their effects on migration and proliferation were investigated subsequently. The influence of FTO and ALKBH5 knockdown on key epithelial-mesenchymal transition (EMT) genes was analyzed. Results: Inactivation of FTO and ALKBH5 resulted in decreased proliferation and motility in all cell lines examined (ACHN, Caki-1, 769-P). Vimentin (VIM) was downregulated after the knockdown of FTO and ALKBH5, indicating an EMT switch. Conclusions: Knockdown of the m6A erasers FTO and ALKBH5 inhibits the malignant potential in the cell cultures studied by means of an EMT switch.
Non-radioactive & non-toxic assay
Reliable & Sensitive
Convenient single-step incubation  – for use on living cells
Widely cited in more than 240 publications
Find out more: BROCHURE – EZ4U cell proliferation and cytotoxicity assay