Cardiac Safety Biomarker Assays in Preclinical Toxicology Testing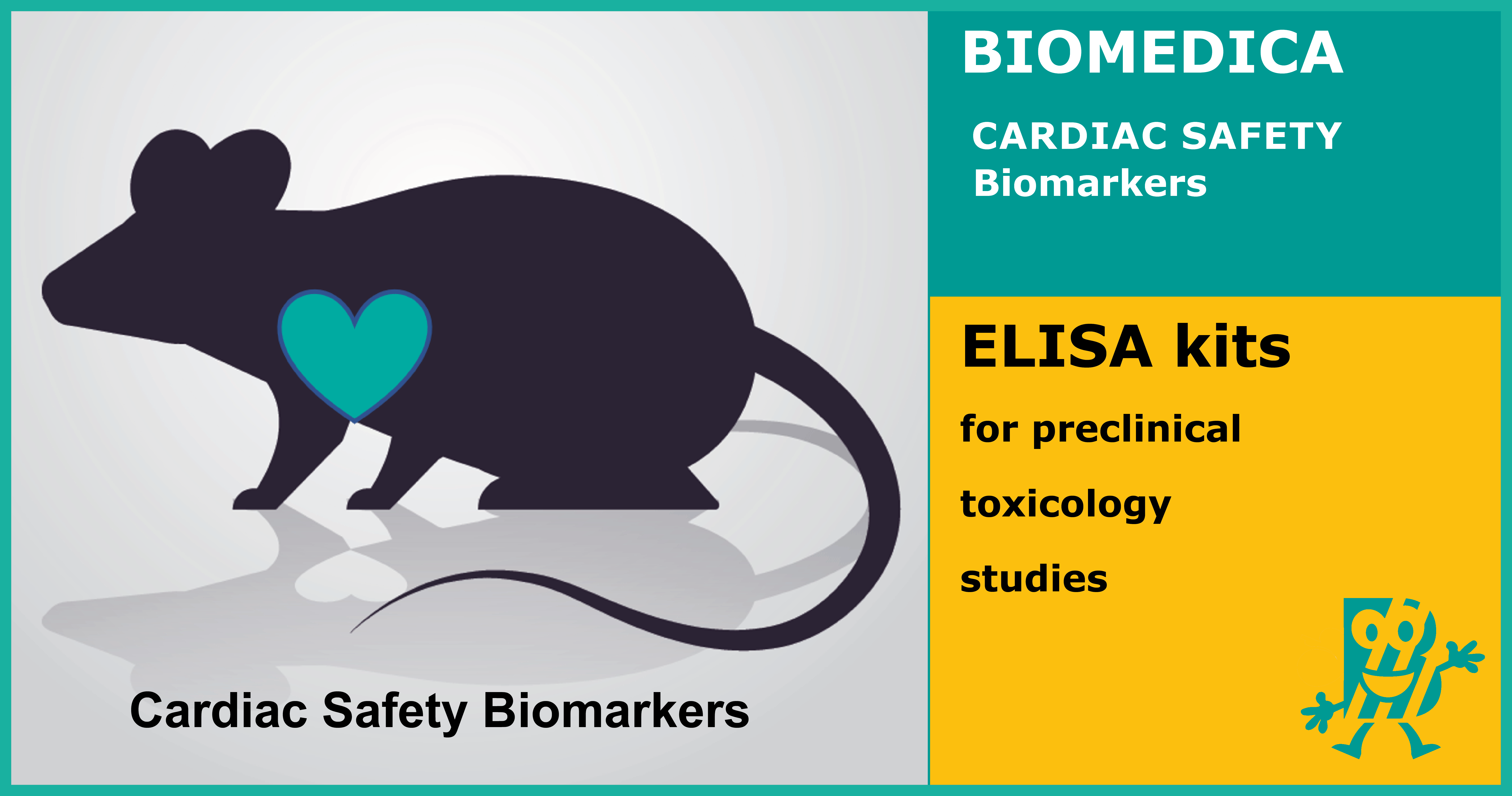 Cardiac Safety Biomarker Assays in Preclinical Toxicology Testing
15 June, 2023
Rat NT-proBNP and NT-proANP ELISA assays for drug discovery and translational research
Cardiac toxicity is a leading cause of preclinical safety failures in drug development. The cardiac markers NT-proANP and NT-proBNP have proven to be useful in preclinical toxicology testing.
Cardiac Safety Biomarker Assays in Preclinical Toxicology Testing
The BIOMEDICA NT-proANP and NT-proBNP ELISA kits are robust assays to quantify these cardiac hormones in rat samples. Due to the high inter-species homology the NT-proANP kit has also been applied in canine and feline samples.
BIOMEDICA´s NT-proANP ELISA kit (BI-20892) is widely published and has been independently validated for cardiovascular safety studies in rats (1, 2).
Rat NT-proBNP ELISA assay (cat. no. BI-1204R) NEW
contact us for your special evaluation discount  info@bmgrp.com
10 µl / well,  serum or plasma
kit control included
sample values provided
NT-proANP ELISA assay (cat. no. BI-20892)  
10 µl / well, serum or plasma
widely cited as cardiovascular safety biomarker in rats
for use in human and non-human samples (high cross-reactivity between species)
PRODUCT INFORMATION
Rat NT-proBNP ELISA  
Product code: BI-1204R
Method: ELISA
Time to result: 3.5 hours
Sample types: rat serum and plasma
Sample volume: 10 µl/well
Sensitivity LOD: 21 pg/ml
Standard curve range: 0 – 3200 pg/ml
Specificity: Endogenous and recombinant rat NT-proBNP
Instructions for use click here
Product code: BI-20892
Method: ELISA
Time to result: 3.5 hours
Sample types: Serum, plasma, urine, cell culture supernatant (human, rat, mouse samples)
Sample volume: 10 µl/well
Sensitivity LOD: 0.05 nmol/l (= 0.64 ng/ml)
Standard curve range: 0 – 10 nmol/l (= 0 – 127 ng/ml)
Specificity: Endogenous and recombinant human NT-proANP (equivalent to proANP 1-98). Very high sequence homology between human and rodent (rat, mouse, and other species e.g. rabbit).
NT-proANP ELISA assay is suitable for rat and mouse samples
Instructions for use: click here
CARDIAC SAFETY BIOMARKER ASSAYS in PRECLINICAL TOXICOLOGY TESTING 
References/Citations/Related Literature
NT-proANP as a cardiovascular safety biomarker in rat and mouse samples , click for all references
Cross-laboratory analytical validation of the cardiac biomarker NT-proANP in rat. Vinken P, Reagan WJ, Rodriguez LA, Buck WR, Lai-Zhang J, Goeminne N, Barbacci G, Liu R, King NM, Engle SK, Colton H.J Pharmacol Toxicol Methods. 2016 Jan-Feb;77:58-65. doi: 10.1016/j.vascn.2015.10.002. Epub 2015 Oct 26. PMID: 26516096.
Natriuretic Peptides as Cardiovascular Safety Biomarkers in Rats: Comparison With Blood Pressure, Heart Rate, and Heart Weight.

Engle SK, Watson DE.Toxicol Sci. 2016 Feb;149(2):458-72. doi: 10.1093/toxsci/kfv240. Epub 2015 Nov 25. PMID: 26609138.
Abstract
Cardiovascular (CV) toxicity is an important cause of failure during drug development. Blood-based biomarkers can be used to detect CV toxicity during preclinical development and prioritize compounds at lower risk of causing such toxicities. Evidence of myocardial degeneration can be detected by measuring concentrations of biomarkers such as cardiac troponin I and creatine kinase in blood; however, detection of functional changes in the CV system, such as blood pressure, generally requires studies in animals with surgically implanted pressure transducers. This is a significant limitation because sustained changes in blood pressure are often accompanied by changes in heart rate and together can lead to cardiac hypertrophy and myocardial degeneration in animals, and major adverse cardiovascular events (MACE) in humans. Increased concentrations of NPs in blood correlate with higher risk of cardiac mortality, all-cause mortality, and MACE in humans. Their utility as biomarkers of CV function and toxicity in rodents was investigated by exploring the relationships between plasma concentrations of NTproANP and NTproBNP, blood pressure, heart rate, and heart weight in Sprague Dawley rats administered compounds that caused hypotension or hypertension, including nifedipine, fluprostenol, minoxidil, L-NAME, L-thyroxine, or sunitinib for 1-2 weeks. Changes in NTproANP and/or NTproBNP concentrations were inversely correlated with changes in blood pressure. NTproANP and NTproBNP concentrations were inconsistently correlated with relative heart weights. In addition, increased heart rate was associated with increased heart weights. These studies support the use of natriuretic peptides and heart rate to detect changes in blood pressure and cardiac hypertrophy in short-duration rat studies.