C-Type Natriuretic Peptide (CNP) Induces Bone Growth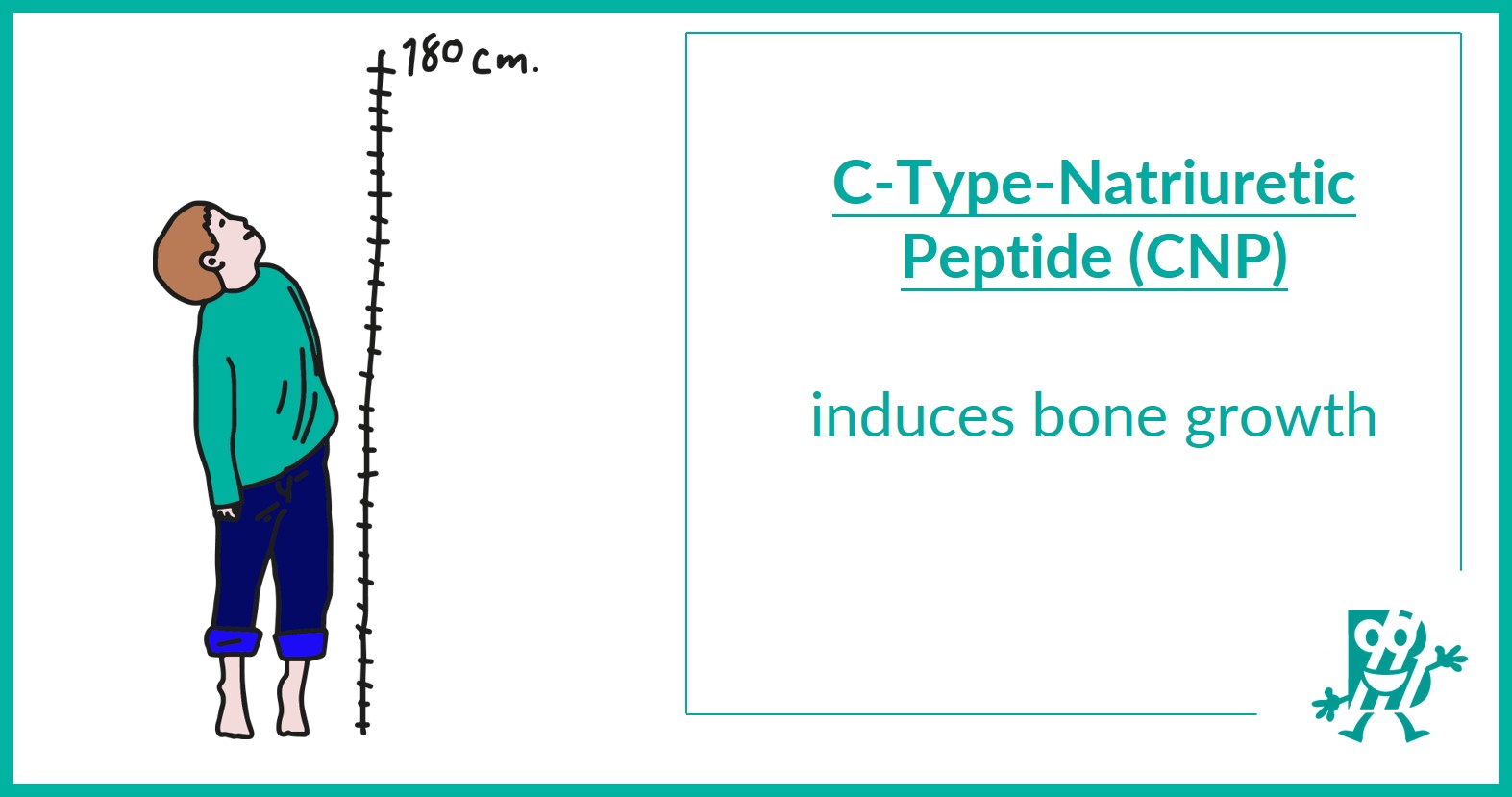 C-Type Natriuretic Peptide (CNP) Induces Bone Growth
9 May, 2023
Role of C-Type Natriuretic Peptide (CNP) in bone growth and development
CNP is a member of the natriuretic peptide family. It acts as a paracrine hormone which is present in several tissues such as the cardiovascular system, brain and the endothelium. CNP controls various processes including blood pressure, water and mineral balance, and numerous metabolic functions (1). In 1995, CNP was first described as a potent regulator of bone remodeling, underlying its important role in humans (2).
C-Type Natriuretic Peptide Induces Bone Growth
Research has indicated that CNP is predominantly synthesized within the joint cartilage by chondrocytes, which are specialized cells primarily responsible for generating collagen and the extracellular matrix. As a result, the primary and well-established role of CNP is in the growth plate skeletal cartilage, where it plays a crucial role in promoting endochondral growth of the developing skeleton (3, 4).
What is the mechanism of bone growth?
The growth of bones is a complex process involving the formation and remodeling of bone tissue throughout the body. It is regulated by a diverse range of hormones, growth factors, and signaling pathways that interact together to maintain skeletal health and function.  
Bone growth can be broadly classified into two types:
Longitudinal growth primarily takes place in the long bones of the body, such as femur and tibia. It is a process by which bones grow in length, predominantly occurring during childhood and adolescence. Longitudinal growth is facilitated by growth plates, which are cartilaginous areas located at the ends of long bones. As the bones elongate, the cartilage in the growth plates gradually undergoes ossification, transforming into bone tissue.
 Appositional growth, on the other hand, is the process by which bones grow in thickness or diameter. This type of growth occurs throughout life and is regulated by a delicate balance between osteoblasts, cells responsible for bone formation and osteoblasts, cells involved in bone resorption and bone-resorbing cells named osteoclasts.
Numerous factors can influence bone growth, including genetics, nutrition, exercise, and hormonal equilibrium. Hormones such as growth hormone and sex hormones play crucial roles in regulating bone growth and development. One hormone that is of particular significance in this regard is C-type natriuretic peptide (CNP), which is essential for the regulation of bone growth.
Quantification of CNP and NT-proCNP in human blood samples
The measurement of biologically active CNP in human blood samples presents a challenge due to its dynamic role in bone growth, its rapid clearance and low circulating concentrations. However, the inactive, but more stable precursor molecule NT-proCNP, has proven to be a reliable alternative. The amino-terminal propeptide NT-proCNP, is synthesized in the growth plate, has a longer half-life and circulates in equimolar concentrations as CNP. Therefore, NT-proCNP is an excellent candidate for investigating the role of C-Type natriuretic Peptide in bone (1, 3).
A study comparing the measurement of CNP and NT-proCNP in human blood samples revealed that an NT-proCNP assay provides more consistent and reliable results, making it the preferred choice for clinical applications (5).
NT-proCNP can reliably be measured in serum and plasma samples with a conventional ELISA assay 
 BIOMEDICA – NT-proCNP ELISA (cat. no BI-20812) 
Full validation  – following international quality guidelines
For human and non-human samples (serum, plasma, cell culture, urine)
Standard 96-well ELISA assay format- color coded and ready to use reagents

Developed & manufactured by Biomedica  
NT-proCNP serves as a biomarker of linear growth  
Research studies in children has provided evidence showing a strong correlation between the levels of NT-proCNP in blood and the rate of linear growth throughout the entire growth process. In infancy, both males and females exhibit high levels of CNP and NT-proCNP, which subsequently decline in early childhood. However, during puberty, NT-proCNP levels rise again, followed by a decrease during adulthood. The peak levels of NT-proCNP align with the age at which peak height velocity occurs. As a result, the measurement of CNP syntheses through NT-proCNP in blood is highly indicative of linear growth in healthy children at all stages of development, making it an exceptional biomarker for monitoring linear growth (3, 6).
The role of NT-proCNP in bone diseases and genetic disorders
While the involvement of CNP in bone growth during development is well-established, its precise role in the adult skeleton remains uncertain. It is plausible that bone remodeling may contribute to increased plasma levels of CNP in children, given that CNP is expressed in osteoblasts and osteoclasts, which are the cells responsible for bone formation and bone degradation. Moreover, alternations in plasma CNP products have been linked to changes in bone turnover markers in adults (7),
CNP has emerged as a significant player in various types of skeletal dysplasia, a group of over 400 genetic disorders characterized by abnormal bone, joint, and cartilage development. Mutations in genes associated with CNP signaling have been identified in these conditions, including achondroplasia and hypochondroplasia, which are the most prevalent forms of dwarfism (8).
CNP has shown to be a promising therapeutic target for treating growth and skeletal disorders. Only recently, a variant of CNP was approved for treatment of achondroplasia (9). Ongoing clinical trials are currently investigating additional inhibitors of the CNP signaling pathway (10).
Related ELISA assay products
-NT-proANP (cat. no. BI-20492) – assay also suitable for preclinical applications (rat, mouse and other species) – 10µl sample volume
-NT-proBNP (cat. no. SK-1204) – CE-marked, for IVD use in EU
-NT-proBNP rat (cat. no. BI-1204R) – sample values provided
Literature