Biomedica´s Cell Proliferation & Cytotoxicity Test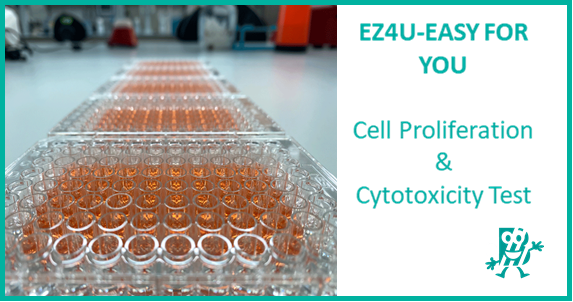 Biomedica´s Cell Proliferation & Cytotoxicity Test
15 November, 2021
Cell proliferation assays are widely used in cell biology. The EZ4U kit is a simple and reliable non-radioactive two to five-hour test. The assay employs non-toxic tetrazolium salts, which are reduced to colored formazan. As this reduction process requires functional mitochondria, which are inactivated within a few minutes after cell death, this method provides an excellent tool for the discrimination between living and dead cells. The assay offers advantages over conventional dye or 3H incorporation assays. Due to its soluble end products it is easier and faster to perform than other non-radioactive cell viability assays. As the assay procedure is identical to the thymidine incorporation procedure, no changes in test protocols are necessary. An important benefit is the possibility of an ongoing cultivation after cell number determination and easy to adapt incubation times due to the non-toxic substrate. The EZ4U assay is well suited for a variety of biological tests, where cell viability is of importance.   Click here to learn more.
√  Non-radioactive & non-toxic
√  Reliable & Sensitive
√  Convenient single-step incubation for use on living cells
√  Widely cited in more than 160 publications
Check out our EZ4U Brochure link
Latest Citations:
Cytotoxicity of combinations of the pan-KRAS inhibitor BAY-293 against primary non-small lung cancer cells.
Plangger A, Rath B, Hochmair M, Funovics M, Hamilton G. Transl Oncol. 2021 Dec;14(12):101230. doi: 10.1016/j.tranon.2021.101230. Epub 2021 Sep 28. PMID: 34598083; PMCID: PMC8488304.
Tolerability to non-endosomal, micron-scale cell penetration probed with magnetic particles.
Ruiz-Cánovas E, Mendoza R, Villaverde A, Corchero JL.Colloids Surf B Biointerfaces. 2021 Sep 20;208:112123. doi: 10.1016/j.colsurfb.2021.112123. Epub ahead of print. PMID: 34571468.
Structure-Activity Relationships of Triple-Action Platinum(IV) Prodrugs with Albumin-Binding Properties and Immunomodulating Ligands.
Fronik P, Poetsch I, Kastner A, Mendrina T, Hager S, Hohenwallner K, Schueffl H, Herndler-Brandstetter D, Koellensperger G, Rampler E, Kopecka J, Riganti C, Berger W, Keppler BK, Heffeter P, Kowol CR.J Med Chem. 2021 Aug 26;64(16):12132-12151. doi: 10.1021/acs.jmedchem.1c00770. Epub 2021 Aug 17. PMID: 34403254; PMCID: PMC8404199.
New Hybrid Compounds Combining Fragments of Usnic Acid and Monoterpenoids for Effective Tyrosyl-DNA Phosphodiesterase 1 Inhibition.
Dyrkheeva NS, Filimonov AS, Luzina OA, Zakharenko AL, Ilina ES, Malakhova AA, Medvedev SP, Reynisson J, Volcho KP, Zakian SM, Salakhutdinov NF, Lavrik OI. Biomolecules. 2021 Jul 1;11(7):973. doi: 10.3390/biom11070973. PMID: 34356597; PMCID: PMC8301776.
Anti-inflammatory effects of two lupane-type triterpenes from leaves of Acanthopanax gracilistylus on LPS-induced RAW264.7 macrophages.
Jiao LUO, Xiao-jun LI and Geon-ho LEE et al. Food Science and Technology. DOI: 10.1590/fst.89721
Interactions of BRCA1-mutated Breast Cancer Cell Lines with Adipose-derived Stromal Cells (ADSCs).
Plangger A, Haslik W, Rath B, Neumayer C, Hamilton G.J Mammary Gland Biol Neoplasia. 2021 Sep;26(3):235-245. doi: 10.1007/s10911-021-09493-4. Epub 2021 Jul 6. PMID: 34228231.