BIOMEDICA Quality CYTOKINE KITS for affordable & efficient research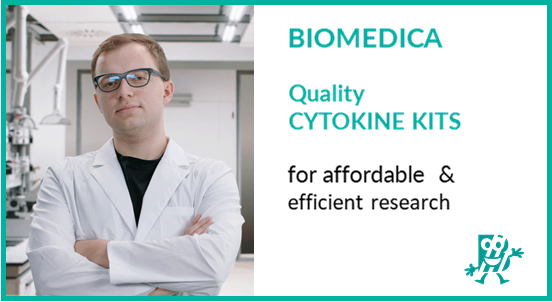 BIOMEDICA Quality CYTOKINE KITS for affordable & efficient research
11 May, 2022
My name is Franz. I am part of the Biomedica assay development team. We are located right in the heart of Europe.
I am proud to introduce our new human Cytokine ELISA Kits  – developed & manufactured by Biomedica.
 IL-6 (Interleukin-6)               high sensitivity – detectable levels
VEGF                                              low sample volume – 10µl
ANGIOPOIETIN-2                 optimized assay range – no predilution
 All kits include color coded, ready to use prediluted standards and controls.
USER-FRIENDLY & RELIABLE ELISA kits
for reproducible & consistent results
√  FULL VALIDATION PACKAGE
international quality guidelines
√  Use of WHO International Standards
for kit calibration & harmonization
Citations:
 The Biomedica human Angiopoietin-2 ELISA (cat.no. BI-ANG2) is described in Nephrology Dialysis Transplantation, Volume 34, Issue Supplement_1, June 2019, gfz103.SP339:
NEW BIOACTIVE ANGIOPOIETIN-2 ELISA ALLOWS THE QUANTIFICATION OF ALL THREE ISOFORMS OF ANGIOPOIETIN-2 IN CHRONIC KIDNEY DISEASE
Ana-Maria Suciu Andreea, Jacqueline Wallwitz, Berg Gabriela, Maria Laber Anna, Himmler Gottfried
INTRODUCTION: Angiopoietin-2 (Ang-2) is an important regulator of the angiopoietin-1/Tie-2 receptor signaling system on endothelial cells during angiogenesis. Disruption of this signaling leads to the loss of endothelial integrity and renders the endothelium response towards a variety of pro-inflammatory cytokines and growth factors. Thus, Ang-2 might lead to vascular micro-inflammation in patients with CKD (chronic kidney disease). Ang-2 levels increase with CKD stage, are associated with fluid overload and abnormal cardiac structure and predict mortality in patients with CKD stages 4–5. Although Ang-2 levels return toward normal after successful kidney transplantation, Ang-2 remains a putative cardiovascular risk factor in this population.
METHODS: An enzyme-linked immunosorbent assay for the detection of all three angiopoietin-2 isoforms in human serum and plasma was developed. Two high quality antibodies are combined in a sandwich test format: As capturing antibody a recombinant monoclonal antibody is used. A biotin-labeled polyclonal affinity-purified antibody serves for detection of the analyte. High resolution epitope mapping of the antibodies via peptide microarray technology allowed the identification of linear antibody epitopes. Technical performance and accuracy of the assay were assessed according to ICH/EMEA guidelines.
RESULTS: Microarray data illustrate the binding of the polyclonal detection antibody to human angiopoietin-2 spotted on a chip. Altogether, seven linear epitopes located N-terminal/at the center of angiopoietin-2 were detected. Most relevant linear epitopes are epitope e2 in the super clustering region and e6 near the fibrinogen-like domain, displaying a twofold higher fluorescent signal than the remaining epitopes. For the recombinant monoclonal antibody no fluorescence was recorded. This antibody recognizes a structural epitope within the C-terminus of angiopoietin-2, which covers the bioactive receptor-binding site of the protein. We expect to detect all described angiopoietin-2 isoforms, as the receptor-binding site is conserved and the majority of the polyclonal antibody epitopes are present in all isoforms. This assay is in conformance with ICH/EMEA/FDA guidelines. Validation data demonstrate its applicability in nephrological disorders including chronic kidney disease. Here we compare an apparently healthy population to chronic kidney disease samples on haemodialysis and kidney transplant samples.
CONCLUSIONS: This new angiopoietin-2 ELISA enables a quick and accurate quantification of all human angiopoietin-2 isoforms that are bioactive in chronic kidney disease and other nephrological disorders.
The Angiopoietin-2 (ANG2) ELISA assay has been fully validated according to international quality guidelines (ICH, EMEA, FDA) and is in line with the required quality specifications (data are shown in the validation file). Assay performance characteristics as accuracy, dilution linearity and parallelism, precision, detection limit and sensitivity, sample stability, specificity including characterization of the angiopoietin-2 antibodies, epitope-mapping were performed.
The Biomedica human VEGF (Vascular Endothelial Growth Factor) ELISA (cat.no. BI-VEGF) is described in the following publication:
NOVEL VEGF-A ELISA ALLOWS SENSITIVE QUANTIFICATION OF HUMAN TOTAL BIOACTIVE VEGF-A.
Osteologie 2020; 29(01): 72. DOI: 10.1055/s-0039-3402888. G Berg, Andreea Ana-Maria Suciu, E Gadermaier, J Wallwitz, G Himmler
Introduction Vascular endothelial growth factor A (VEGF-A), a prominent member of growth factors that regulate angiogenesis and development of normal vasculature, plays an important role in bone development and remodeling. Studies have shown that ossification requires vascularization a priori and that most VEGF in the bone comes from osteoblastic cells. Upon secretion from osteoblasts, VEGF activates endothelial cell migration/proliferation and vessel permeability. Moreover, it regulates osteoclastic differentiation and migration in bone repair. Thus, VEGF represents a relevant therapeutic target. The sensitive measurement of low amounts of circulating VEGF-A found in control cohorts of apparently healthy individuals proves to be difficult. Hence, there is a need for a high-sensitivity assay that reliably measures low VEGF-A concentrations.
Methods We developed a high-sensitivity sandwich ELISA for the detection of human total bioactive VEGF-A using high quality, well-characterized recombinant monoclonal and polyclonal anti-human VEGF-A antibodies. The linear epitopes of the polyclonal detection antibody were mapped with microarray technology. Analyte stability was determined and in accordance with ICH and EMEA guidelines, assay parameters like specificity, dilution linearity, and spike recovery were assessed.
Results We demonstrate that bioactive human VEGF-A can reliably be measured in plasma preparations. In contrast, serum VEGF levels are clearly increased in some samples. This indicates that serum preparation might have an influence on the VEGF amount measured as VEGF can be released from platelets during sample manipulation. Most importantly, we show that samples of apparently healthy individuals are measurable over background. The assay covers a calibration range between 0 and 2000 pg/ml and assay characteristics as well as analyte stability meet the international standards of acceptance. The recombinant capture antibody recognizes a structural epitope in the conserved receptor binding-site of VEGF-A, and thus, specifically binds to all bioactive isoforms of VEGF-A. The polyclonal detection antibody recognizes linear epitopes in the first 120 amino acids of the VEGF-A molecule.
Discussion Our novel VEGF-A ELISA provides a reliable and accurate tool for the quantitative determination of all biologically active VEGF-A isoforms with high sensitivity.
Keywords Angiogenesis, Bone Formation, Growth Factors, Bone Repair, Vascular Endothelial Growth Factor
Of note: The VEGF ELISA assay has been validated according to the guidelines of ICH, EMEA, and FDA.  The VEGF assay validation data show that they correspond to the international quality specifications. Various experiments including parallelism and dilution linearity as well as accuracy, precision, analysis of the stability of samples, and the  characterization of antibodies utilized in the VEGF ELISA assay e.g. epitope-mapping, were performed.