ANALYTICAL SERVICE MEASUREMENTS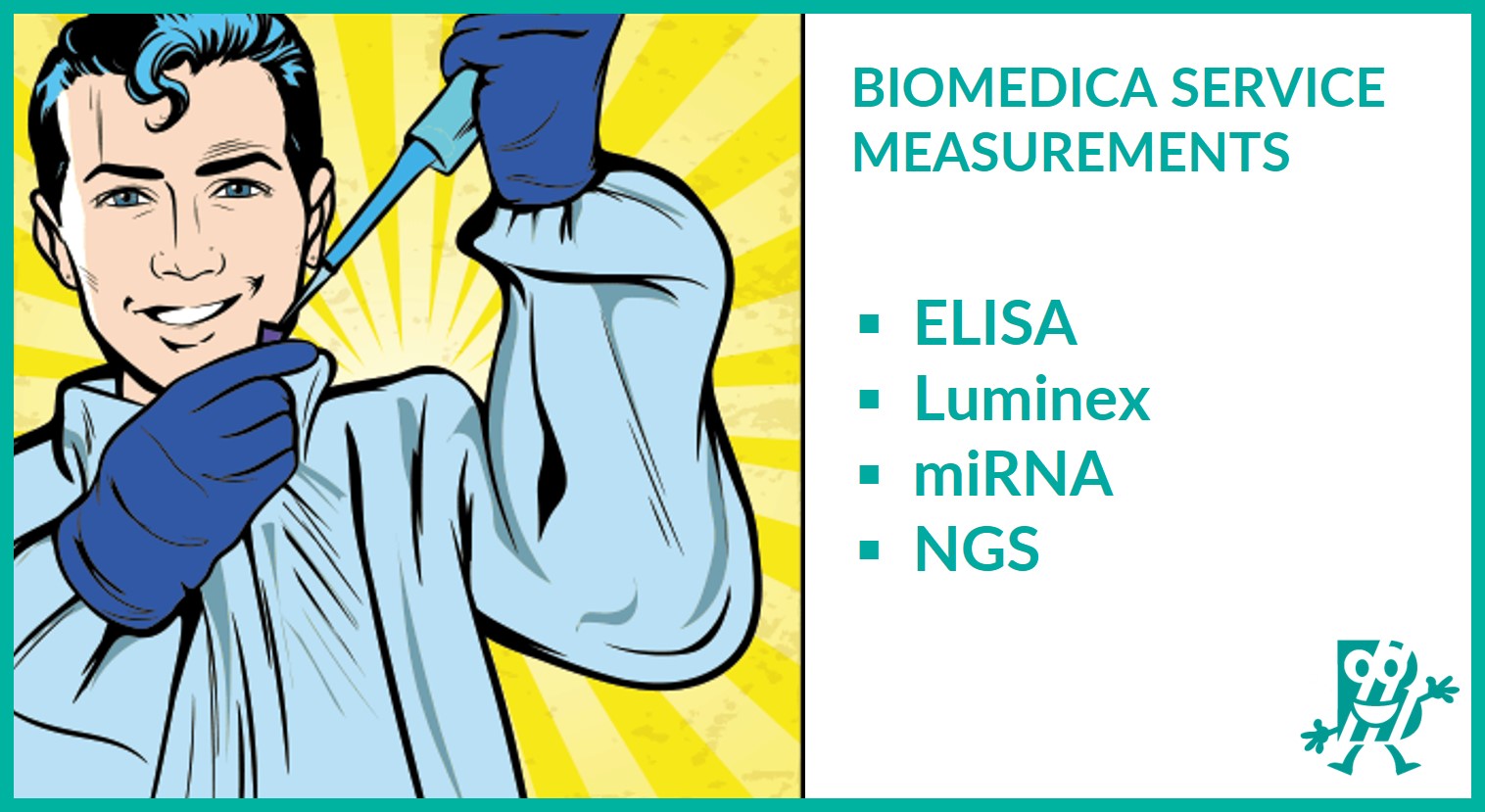 ANALYTICAL SERVICE MEASUREMENTS
18 August, 2023
ELISA – Luminex – NGS – microRNA
Analytical Service Measurements – we offer tailored analytical testing services for
ELISA  & Luminex Assays, NGS & microRNA  and can support your research with:
• Expertise: experienced laboratory staff
• Quality: highest quality equipment
• Flexibility: tailored solutions according to your project needs and budget
• Speed: rapid turn-around time to meet your deadlines
• Results: verified and comprehensive results presented in an analytical report
Learn more about our ELISA and Luminex Workflow chart and our microRNA service details click here
Analytical

Service

Measurements

–

Biomedica
ELISA
We will be happy to measure any kind of biomarker of your choice with an ELISA assay (enzyme linked immunosorbent assay) including our propriety Biomedica biomarker ELISA kits (www.bmgrp.com).
Our Service Measurement Applications include analysis of samples for:
Clinical studies (serum and plasma samples)
Pre-clinical studies (any species)
Of note: Biomedica offers several biomarker ELISA kits for the application in various animal models: Rat-NT-proBNP ELISA and  NT-proANP ELISA (widely used in rat and mice,  works also in also in rabbit or pig models).
RNA Services
Together with TamiRNA we offer a range of quality RNA services:
RNA extraction: Biofluids including serum, plasma, and extracellular vesicles. Cells and tissues – the quality control of total RNA is carried out utilizing bioanalyser chips. 
Next-generation sequencing- NGS.
RT-qPCR
We also analyse cell-type specific microRNA/mRNA  in complex tissues and offer custom analysis of microRNA signatures.
Finally, we carry out the analysis of established microRNA signatures to predict fracture risk, platelet function, and toxicity.
Further reading
Enzyme-Linked Immunosorbent Assay: Types and Applications. Hayrapetyan H, Tran T, Tellez-Corrales E, Madiraju C. Methods Mol Biol. 2023;2612:1-17. doi: 10.1007/978-1-0716-2903-1_1. PMID: 36795355.
RNA Extraction from Cartilage: Issues, Methods, Tips. Pagani S, Maglio M, Sicuro L, Fini M, Giavaresi G, Brogini S. Int J Mol Sci. 2023 Jan 20;24(3):2120. doi: 10.3390/ijms24032120. PMID: 36768444; PMCID: PMC9917073.
A Comprehensive Review of Performance of Next-Generation Sequencing Platforms. Pervez MT, Hasnain MJU, Abbas SH, Moustafa MF, Aslam N, Shah SSM. Biomed Res Int. 2022 Sep 29;2022:3457806. doi: 10.1155/2022/3457806. PMID: 36212714; PMCID: PMC9537002.