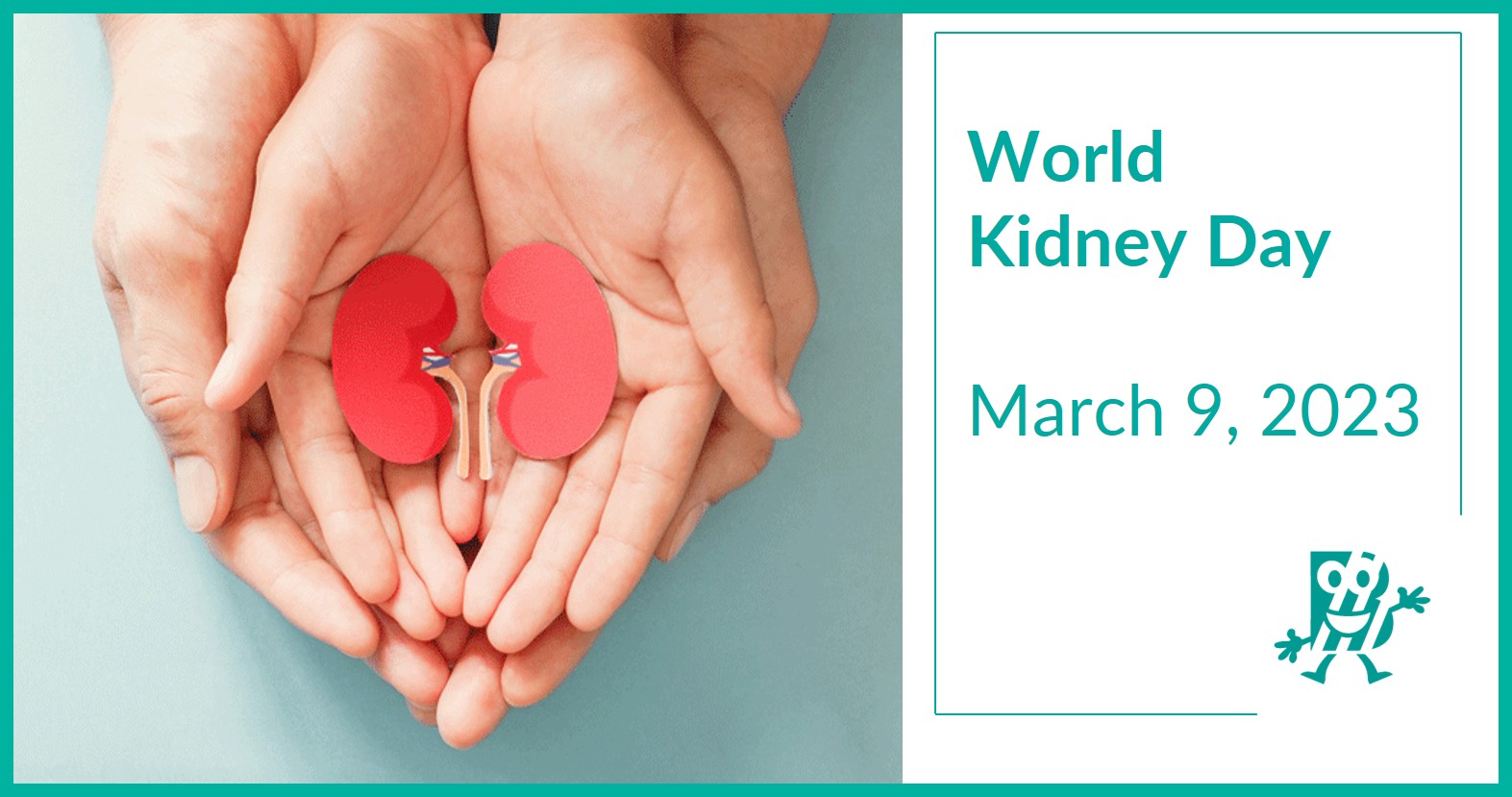 World Kidney Day
9 March, 2023
World Kidney Day – March 9, 2023 – raising awareness of the importance of our kidneys
Around 1 in 10 people suffer from chronic kidney disease (CKD), with more than 800 million individuals being affected worldwide. CKD is a progressive disease in which the kidneys gradually lose their function over time. If detected early, medication and changes in lifestyle may help to prevent or slow down CKD progression.
What are the risk factors for CKD?
Older age (+60 years), diabetes, high blood pressure, heart disease, obesity and some medications are some known risk factors for kidney disease.
How can we keep our kidneys healthy?
Nutrition, exercise, sufficient fluid intake are only some examples on how to keep our kidneys healthy. Valuable information can be found on the following websites :
"The International Society of Nephrology – ISN"
"International Federation of Kidney Foundations – IFKF"
BIOMEDICA – Biomarker ELISA kits for clinical research in kidney disease
check out our Brochure – Biomarkers in Clinical Nephrology
ROBUST & RELIABLE ASSAYS
Fully validated according to international quality guidelines
Widely cited in over 1500 publications
FGF23 (Fibroblast growth factor 23) Vanin-1, Endostatin, Sclerostin, Osteoprotegerin, Angiopoietin-2, IL-6, VEGF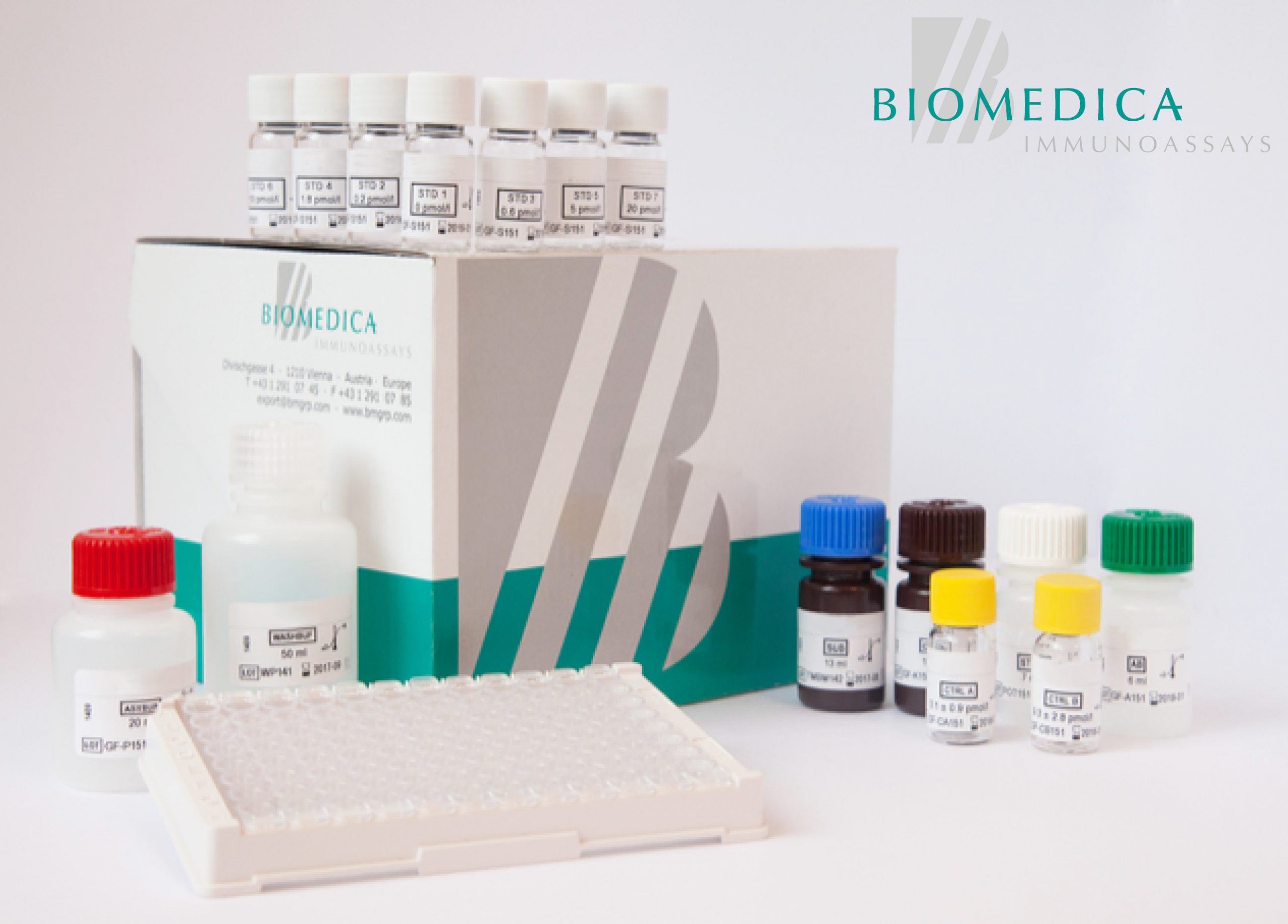 Biomedica Quality ELISA kits
LITERATURE
Plant-based diets for prevention and management of chronic kidney disease. Joshi S, Hashmi S, Shah S, Kalantar-Zadeh K. Curr Opin Nephrol Hypertens. 2020 Jan;29(1):16-21. doi: 10.1097/MNH.0000000000000574. PMID: 31725014. 
Abstract
Purpose of review: Plant-based diets have been used with growing popularity for the treatment of a wide range of lifestyle-related diseases, including diabetes, hypertension, and obesity. With the reinvigoration of the dietary management of chronic kidney disease (CKD) and the use of low protein diets for secondary prevention of CKD to delay or prevent dialysis therapy, there is an increasing interest in the potential role of plant-based diets for these patients.
Recent findings: Recently, a body of evidence related to the role of plant-based diets in preventing CKD has reemerged. Several observational studies have shown that red and processed meat have been associated with increased risk of CKD as well as faster progression in those with preexisting CKD. In several substitution analyses, replacement of one serving of red and/or processed meat has been linked with sizable reductions in CKD risk. Although limited, experimental trials for the treatment of metabolic acidosis in CKD with fruits and vegetables show outcomes comparable to oral bicarbonate. The use of plant-based diets in CKD may have other benefits in the areas of hypertension, weight, hyperphosphatemia, reductions in hyperfiltration, and, possibly, mortality. The risk of potassium overload from plant-based diets appears overstated, mostly opinion-based, and not supported by the evidence. Plant-based diets are generally well tolerated and provide adequate protein intake, including essential amino acids as long as the diet is correctly implemented.
Summary: Plant-based diets should be recommended for both primary and secondary prevention of CKD. Concerns of hyperkalemia and protein inadequacy related to plant-based diets may be outdated and unsupported by the current body of literature. Healthcare providers in general medicine and nephrology can consider plant-based diets as an important tool for prevention and management of CKD.
Exercise and Kidney Disease Prevention: Walk This Way. Seliger S, Weiner DE. Am J Kidney Dis. 2022 Oct;80(4):552-554. doi: 10.1053/j.ajkd.2022.07.001. Epub 2022 Jul 21. PMID: 35872228.
Raising awareness, screening and prevention of chronic kidney disease: It takes more than a village. Hsiao LL. Nephrology (Carlton). 2018 Oct;23 Suppl 4:107-111. doi: 10.1111/nep.13459. PMID: 30298651.
Abstract
Chronic kidney disease (CKD) is a major public health problem worldwide. Its prevalence and incidence are increasing, particularly among the ethnic minority populations. Diabetes, hypertension and obesity have been the three major aetiologies for CKD in all developed countries. While diabetes and hypertension remain the major causes of CKD in developing countries, environmental pollution, pesticides, water, analgesic abuse and herbal medications are common causes in these regions. Rapid urbanization and globalization are thought to be the contributing factors to rising prevalence and incidents of CKD. Despite the rising prevalence of CKD, disease awareness remains profoundly low. Worldwide, only 6% of the general population and 10% of the high-risk population are aware of their CKD statuses. Health screenings have been shown to be effective in improving the incidence of ESRD. However, currently there is no effective tool to assess and evaluate the awareness objectively.
Microbiome-metabolome reveals the contribution of gut-kidney axis on kidney disease. Chen YY, Chen DQ, Chen L, Liu JR, Vaziri ND, Guo Y, Zhao YY. J Transl Med. 2019 Jan 3;17(1):5. doi: 10.1186/s12967-018-1756-4. PMID: 30602367; PMCID: PMC6317198.