TESTICULAR CANCER – RANKL inhibition suppresses tumor growth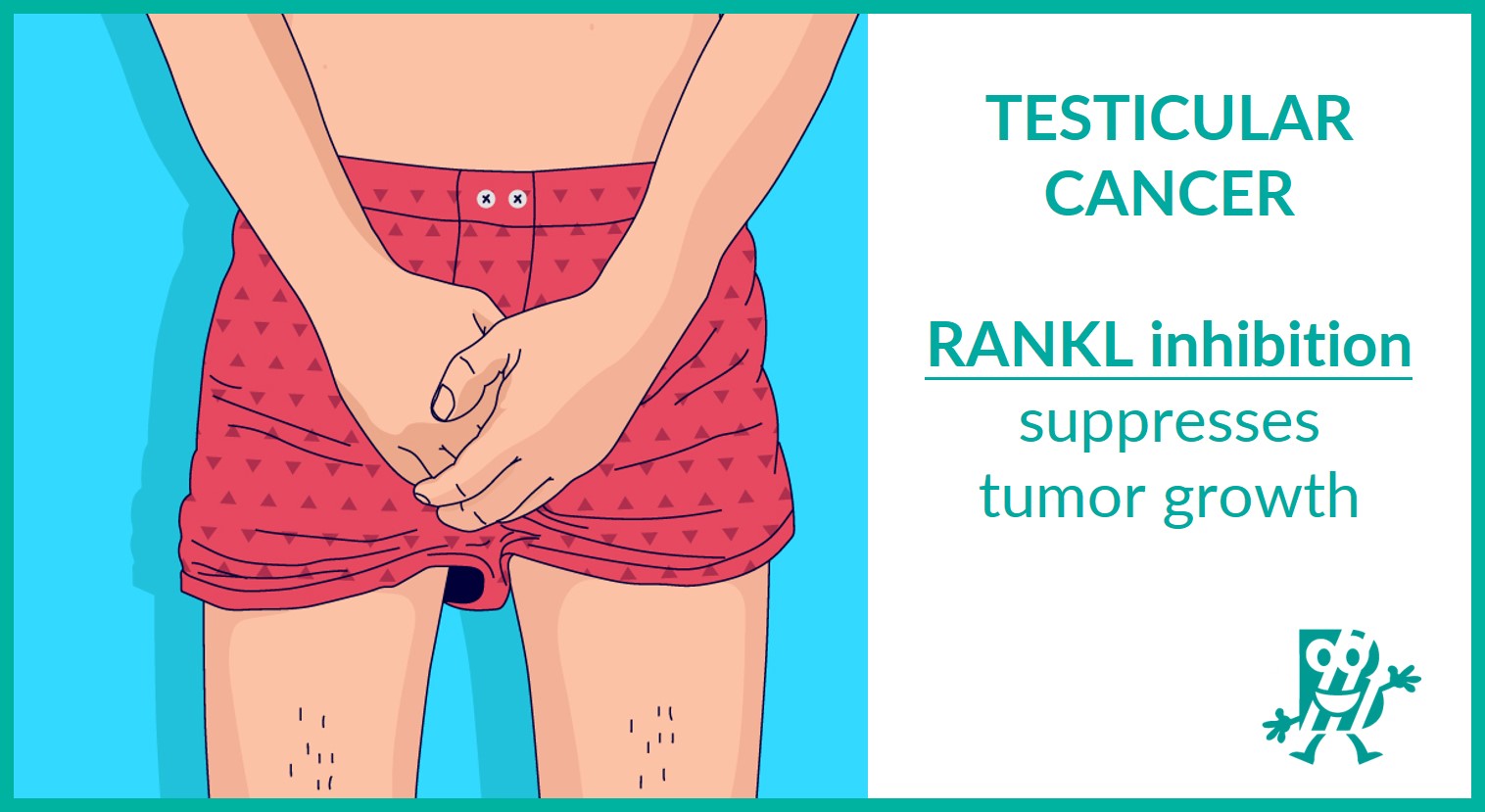 TESTICULAR CANCER – RANKL inhibition suppresses tumor growth
10 June, 2022
Testicular Cancer – RANKL inhibition suppresses tumor growth: Testicular cancer is the most commonly diagnosed malignancy in young males. A new study features the use of the Biomedica RANKL ELISA investigating the effects of RANKL (receptor activator of nuclear factor- κB ligand) inhibition in patients with testicular cancer. Despite its high cure rate, patients suffer from serious adverse effects to chemotherapy. Investigating alternative treatments, the scientists demonstrated that the RANKL inhibitor Denosumamb, used to treat osteoporosis, has tumor suppressive properties. As RANKL signaling was recently identified in the testis regulating male reproductive function, an open question remains if RANKL is responsible for the malignant transformation to invasive tumors.
Testicular Cancer – RANKL inhibition suppresses tumor growth
RANKL regulates testicular cancer growth and Denosumab treatment has suppressive effects on GCNIS and advanced seminoma.                                                                                                                                        
Andreassen CH, Lorenzen M, Nielsen JE, Kafai Yahyavi S, Toft BG, Ingerslev LR, Clemmensen C, Rasmussen LJ, Bokemeyer C, Juul A, Jørgensen A, Blomberg Jensen M. Br J Cancer. 2022 Apr 13. doi: 10.1038/s41416-022-01810-w. Epub ahead of print. PMID: 35418213.
Abstract
Background: Testicular germ cell tumours (TGCTs) have a high sensitivity to chemotherapy and a high cure rate, although with serious adverse effects. In the search for tumour suppressive drugs, the RANKL inhibitor Denosumab, used to treat osteoporosis, came up as a candidate since RANKL signalling was recently identified in the testis.
Methods: Expression of RANKL, RANK and OPG, and the effects of RANKL inhibition were investigated in human TGCTs, TGCT-derived cell-lines, and TGCT-xenograft models. Serum RANKL was measured in TGCT-patients.
Results: RANKL, RANK, and OPG were expressed in germ cell neoplasia in situ (GCNIS), TGCTs, and TGCT-derived cell lines. RANKL-inhibition reduced proliferation of seminoma-derived TCam-2 cells, but had no effect on embryonal carcinoma-derived NTera2 cells. Pretreatment with Denosumab did not augment the effect of cisplatin in vitro. However, inhibition of RANKL in vivo reduced tumour growth exclusively in the TCam-2-xenograft model and Denosumab-treatment decreased proliferation in human GCNIS cultures. In TGCT-patients serum RANKL had no prognostic value.
Conclusions: This study shows that the RANKL signalling system is expressed in GCNIS and seminoma where RANKL inhibition suppresses tumour growth in vitro and in vivo. Future studies are needed to determine whether RANKL is important for the malignant transformation or transition from GCNIS to invasive tumours.
FREE soluble RANKL HS ELISA | BI-20462
Biomedica offers an ELISA assay kit for the reliable detection of  free soluble uncomplexed RANKL in human serum samples: free soluble RANKL ELISA (cat. no. BI-20462)
 Widely cited in clinical studies – 290+ publications

• Reliable – fully validated according to international guidelines
• High sensitivity – measurable concentrations in healthy subjects
• HIGH quality guaranteed  – developed & produced by Biomedica
Related products
Osteoprotegerin (OPG) ELISA  , DKK-1 ELISA ,  Sclerostin ELISA ,
IL-6 ELISA  ,  VEGF ELISA ,  Angiopoietin-2 ELISA
Related publications
RANKL regulates male reproductive function.
Blomberg Jensen M, Andreassen CH, Jørgensen A, Nielsen JE, Juel Mortensen L, Boisen IM, et al. Nat Commun. 2021;12:1–15. doi: 10.1038/s41467-021-22734-8. PMID: 33893301; PMCID: PMC8065035.
Abstract
Infertile men have few treatment options. Here, we demonstrate that the transmembrane receptor activator of NF-kB ligand (RANKL) signaling system is active in mouse and human testis. RANKL is highly expressed in Sertoli cells and signals through RANK, expressed in most germ cells, whereas the RANKL-inhibitor osteoprotegerin (OPG) is expressed in germ and peritubular cells. OPG treatment increases wild-type mouse sperm counts, and mice with global or Sertoli-specific genetic suppression of Rankl have increased male fertility and sperm counts. Moreover, RANKL levels in seminal fluid are high and distinguishes normal from infertile men with higher specificity than total sperm count. In infertile men, one dose of Denosumab decreases RANKL seminal fluid concentration and increases serum Inhibin-B and anti-Müllerian-hormone levels, but semen quality only in a subgroup. This translational study suggests that RANKL is a regulator of male reproductive function, however, predictive biomarkers for treatment-outcome requires further investigation in placebo-controlled studies.
The RANK-RANKL axis: an opportunity for drug repurposing in cancer?
Peters S, Clézardin P, Márquez-Rodas I, Niepel D, Gedye C. Clin Transl Oncol. 2019;21:977–91. doi: 10.1007/s12094-018-02023-5. Epub 2019 Jan 17. PMID: 30656607.
Abstract
Drug repurposing offers advantages over traditional drug development in terms of cost, speed and improved patient outcomes. The receptor activator of nuclear factor kappa B (RANK) ligand (RANKL) inhibitor denosumab is approved for the prevention of skeletal-related events in patients with advanced malignancies involving bone, including solid tumours and multiple myeloma. Following improved understanding of the role of RANK/RANKL in cancer biology, denosumab has already been repurposed as a treatment for giant cell tumour of bone. Here, we review the role of RANK/RANKL in tumourigenesis, including effects on tumour initiation, progression and metastasis and consider the impact of RANK/RANKL on tumour immunology and immune evasion. Finally, we look briefly at ongoing trials and future opportunities for therapeutic synergy when combining denosumab with anti-cancer agents such as immune checkpoint inhibitors.
Possible link between FSH and RANKL release from adipocytes in men with impaired gonadal function including Klinefelter syndrome .
Juel Mortensen L, Lorenzen M, Jørgensen N, Andersson A-M, Nielsen JE, Petersen LI, et al.Bone. 2019;123:103–14. doi: 10.1016/j.bone.2019.03.022. Epub 2019 Mar 23. PMID: 30914274.
International Trends in the Incidence of Testicular Cancer: Lessons from 35 Years and 41 Countries.
Gurney JK, Florio AA, Znaor A, Ferlay J, Laversanne M, Sarfati D, Bray F, McGlynn KA. Eur Urol. 2019 Nov;76(5):615-623. doi: 10.1016/j.eururo.2019.07.002. Epub 2019 Jul 17. PMID: 31324498; PMCID: PMC8653517.
Development of a 3D-printed testicular cancer model for testicular examination education.
Power RJ, Hearn J, Gillis CJ, Harvey D, French C, Organ M. Can Urol Assoc J. 2021 Apr;15(4):E221-E226. doi: 10.5489/cuaj.6675. PMID: 33007179; PMCID: PMC8021429.
How to do a Testicular Self Exam . Testicular Cancer Society