PROGNOSTIC MARKERS FOR BREAST CANCER SURVIVAL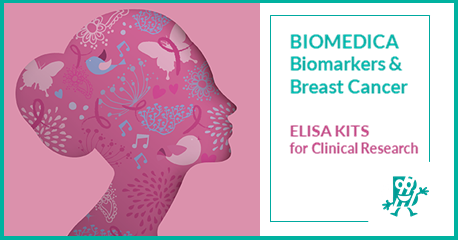 PROGNOSTIC MARKERS FOR BREAST CANCER SURVIVAL
29 October, 2021
Breast cancer is the most common cancer in women worldwide. Improving our understanding of how breast cancer originates, grows and spreads may help to reduce the risk and burden of the disease. Biomarker research, has identified the novel protein markers Periostin and Neuropilin-1 as promising  prognostic markers for breast cancer-specific survival. These proteins can easily be detected in human serum and plasma by ELISA assay.  
Assay Highlights:
√  EASY – ready to use calibrators & controls included
√  RELIABLE – validated according to international quality guidelines
√  LOW sample volume- 10 µl / sample
Check out Biomedica´s Product Brochure Biomarkers in Oncology
Publications on Periostin and Neuropilin-1 applied in breast cancer research:
High serum levels of periostin are associated with a poor survival in breast cancer.  Rachner TD et al., 2020,  link.
Abstract:
Purpose: Periostin is a secreted extracellular matrix protein, which was originally described in osteoblasts. It supports osteoblastic differentiation and bone formation and has been implicated in the pathogenesis of several human malignancies, including breast cancer. However, little is known about the prognostic value of serum periostin levels in breast cancer.
Methods: In this study, we analyzed serum levels of periostin in a cohort of 509 primary, non-metastatic breast cancer patients. Disseminated tumor cell (DTC) status was determined using bone marrow aspirates obtained from the anterior iliac crests. Periostin levels were stratified according to several clinical parameters and Pearson correlation analyses were performed. Kaplan-Meier survival curves were assessed by using the log-rank (Mantel-Cox) test. To identify prognostic factors, multivariate Cox regression analyses were used.
Results: Mean serum levels of periostin were 505 ± 179 pmol/l. In older patients (> 60 years), periostin serum levels were significantly increased compared to younger patients (540 ± 184 pmol/l vs. 469 ± 167 pmol/l; p < 0.0001) and age was positively correlated with periostin expression (p < 0.0001). When stratifying the cohort according to periostin serum concentrations, the overall and breast cancer-specific mortality were significantly higher in those patients with high serum periostin (above median) compared to those with low periostin during a mean follow-up of 8.5 years (17.7% vs. 11.4% breast cancer-specific death; p = 0.03; hazard ratio 1.65). Periostin was confirmed to be an independent prognostic marker for breast cancer-specific survival (p = 0.017; hazard ratio 1.79). No significant differences in serum periostin were observed when stratifying the patients according to their DTC status.
Conclusions: Our findings emphasize the relevance of periostin in breast cancer and reveal serum periostin as a potential marker for disease prediction, independent on the presence of micrometastases.
Development of an engineered peptide antagonist against periostin to overcome doxorubicin resistance in breast cancer. Oo KK et al., 2021, link.
Abstract:
Background: Chemoresistance is one of the main problems in treatment of cancer. Periostin (PN) is a stromal protein which is mostly secreted from cancer associated fibroblasts in the tumor microenvironment and can promote cancer progression including cell survival, metastasis, and chemoresistance. The main objective of this study was to develop an anti-PN peptide from the bacteriophage library to overcome PN effects in breast cancer (BCA) cells.
Methods: A twelve amino acids bacteriophage display library was used for biopanning against the PN active site. A selected clone was sequenced and analyzed for peptide primary structure. A peptide was synthesized and tested for the binding affinity to PN. PN effects including a proliferation, migration and a drug sensitivity test were performed using PN overexpression BCA cells or PN treatment and inhibited by an anti-PN peptide. An intracellular signaling mechanism of inhibition was studied by western blot analysis. Lastly, PN expressions in BCA patients were analyzed along with clinical data.
Results: The results showed that a candidate anti-PN peptide was synthesized and showed affinity binding to PN. PN could increase proliferation and migration of BCA cells and these effects could be inhibited by an anti-PN peptide. There was significant resistance to doxorubicin in PN-overexpressed BCA cells and this effect could be reversed by an anti-PN peptide in associations with phosphorylation of AKT and expression of survivin. In BCA patients, serum PN showed a correlation with tissue PN expression but there was no significant correlation with clinical data.
Conclusions: This finding supports that anti-PN peptide is expected to be used in the development of peptide therapy to reduce PN-induced chemoresistance in BCA.
 Neuropilin-1 is a marker of poor prognosis in early breast cancer. Rachner TD et al., 2021, link.
Abstract:
Background: Neuropilin-1 (NRP-1) is a transmembrane protein that acts as a multifunctional non-tyrosine kinase receptor with an established role in development and immunity. NRP-1 also regulates tumor biology, and high expression levels of tissue NRP-1 have been associated with a poor prognosis. Recently, ELISA-based quantification of soluble NRP-1 (sNRP-1) has become available, but little is known about the prognostic value of sNRP-1 in malignancies.
Materials and methods: We measured sNRP-1 in the serum of 509 patients with primary early breast cancer (BC) at the time of diagnosis using ELISA.
Results: Mean serum values of sNRP-1 were 1.88 ± 0.52 nmol/l (= 130.83 ± 36.24 ng/ml). SNRP-1 levels weakly correlated with age, and were higher in peri- and postmenopausal patients compared to premenopausal patients, respectively (p < 0.0001). Low levels of sNRP-1 were associated with a significant survival benefit compared to high sNRP-1 levels at baseline (p = 0.005; HR 1.94; 95%CI 1.23-3.06). These findings remained significant after adjustment for tumor stage including lymph node involvement, grading, hormone receptor, HER2 status, and age (p = 0.022; HR 1.78; 95%CI 1.09-2.91).
Conclusion: Our findings warrant further investigations into the prognostic and therapeutic potential of sNRP-1 in BC.