osteomiR™: exciting new data on mechanisms and utility of microRNA bone biomarkers are out now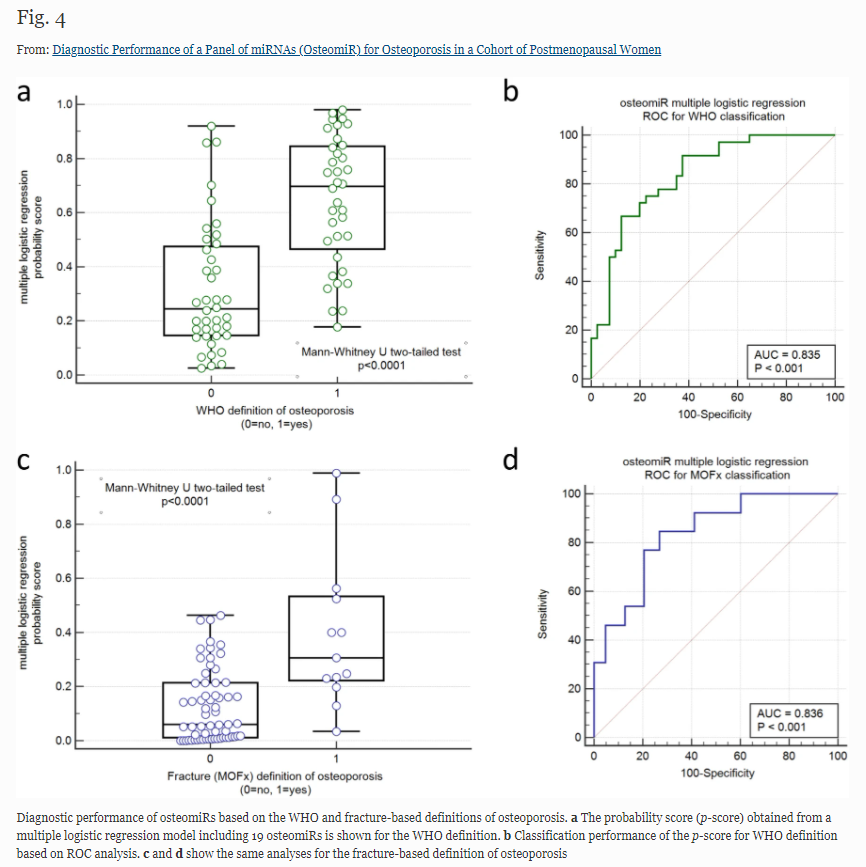 osteomiR™: exciting new data on mechanisms and utility of microRNA bone biomarkers are out now
8 February, 2021
The study by Kerschan-Schindl et al. proved the osteomiR™  panel to be a set of 19 emerging bone biomarkers, which together can be used as a fingerprint for osteoporosis based on the WHO criteria. 
 "Diagnostic Performance of a Panel of miRNAs (OsteomiR™) for Osteoporosis in a Cohort of Postmenopausal Women."
Kerschan-Schindl K., Hackl M., Boschitsch E et al.  Calcified Tissue International. 2021-01-11. doi:10.1007/s00223-020-00802-3. Click link for full text publication.

In the special issue on miRNAs in Bone Research Grillari et al. summarize the technical challenges associated with circulating miRNA research in bone health and disease.
"Circulating miRNAs in bone health and disease"
Grillari J, Mäkitie ER, Kocijan R et al. Bone Volume 145, April 2021, 115787. doi.org/10.1016/j.bone.2020.115787. Click link for full review (access until March 9, 2021).

Biological mechanisms will be further investigated within the Marie-Curie ITN project FIDELIO. Click link for more information on FIDELIO.  
Link to product details:
osteomiR™ – miRNA Biomarkers, cat.no. TW-KT-011-OT