Powerful Human IL-6 ELISA kit EXTRAORDINARY SENSITIVITY with a WIDE DYNAMIC RANGE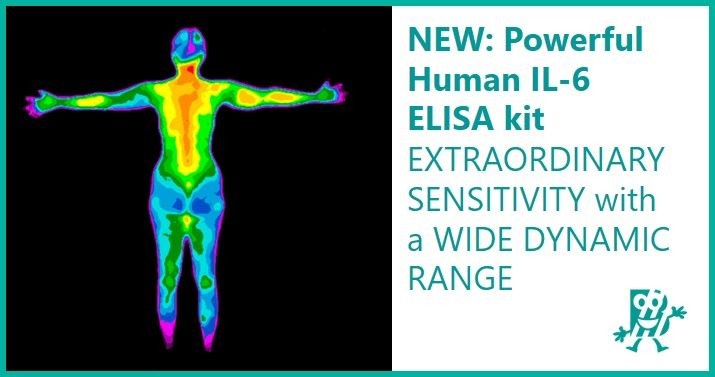 Powerful Human IL-6 ELISA kit EXTRAORDINARY SENSITIVITY with a WIDE DYNAMIC RANGE
30 April, 2021
Interleukin-6 (IL-6) is a pleiotropic cytokine that plays a crucial role in regulating the acute phase response, inflammation, hematopoiesis, glucose metabolism, bone metabolism and cancer progression.
Biomedica´s high quality IL-6 ELISA kit offers EXTRAORDINARY SENSITIVITY with a WIDE DYNAMIC RANGE: https://buff.ly/3u139m1
Check out our new human IL-6 ELISA kit – developed and manufactured by Biomedica!
Why use Biomedica´s IL-6 ELISA kit?
• EASY ready to use calibrators & controls included
• HIGH SENSITIVITY measurable values in serum and plasma, CC and urine • RELIABLE validated according to international quality guidelines
• HIGHLY SPECIFIC characterized recombinant epitope-mapped antibodies
Complete ready to use IL-6 ELISA kit for superior performance and reproducibility Review:
Interleukin-6 signaling in health and disease. Rose-John S, 2020. F1000Res, 20;9:F1000 Faculty Rev-1013.
SARS-CoV-2 and COVID-19: Is interleukin-6 (IL-6) the 'culprit lesion' of ARDS onset? What is there besides Tocilizumab? SGP130Fc. Magro G., 2020. Cytokine X,2(2):100029.