Impact of intensive training on amateur marathon runners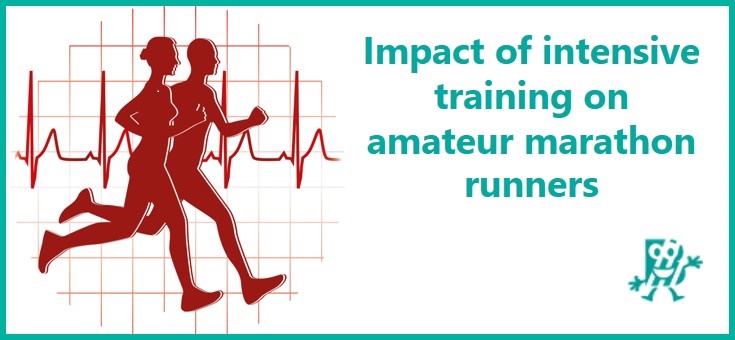 Impact of intensive training on amateur marathon runners
26 August, 2021
Marathon running has become very popular among amateurs. The impact of intensive training on their cardiovascular system is yet unknown. The following study analyses changes in biomarkers reflecting cardiac injury and overload in male amateur runners. Measurements were assessed at baseline, immediately post-marathon and two weeks after the marathon. The data reveal that completing a marathon by an amateur led to an acute, significant cardiac volume and pressure overload, as indicated by significant increases in BNP, NT-proANP and GDF-15 levels.
Although numerous studies have demonstrated that regular physical activity is beneficial, a medical check-up including medical history and cardiovascular risk profile and resting ECG  in individuals who are planning to practice intensive endurance sports could diminish potential negative effects on the heart.
View abstract:  Myocardial Injury and Overload among Amateur Marathoners as Indicated by Changes in Concentrations of Cardiovascular Biomarkers. Kaleta-Duss AM et al., Int J Environ Res Public Health. 2020.  26;17(17):6191.  
Abstract:
Marathons continue to grow in popularity among amateurs. However, the impact of intensive exercise on the amateur's cardiovascular system has not yet been studied. Analysis of the influence of the marathon on kinetics of biomarkers reflecting cardiac injury and overload may bring new insights into this issue. We investigated the effect of running a marathon on the concentrations of high sensitivity cardiac troponin I (hs-cTnI), heart-type fatty acid binding protein (H-FABP), N-terminal proatrial natriuretic peptide (NT-proANP), B-type natriuretic peptide (BNP), growth differentiation factor 15 (GDF-15) and galectin 3 (Gal-3) in the population of male amateur runners. The study included 35 amateur marathoners and followed 3 stages: S1—two weeks prior to the marathon, S2—at the finish line and S3—two weeks after. Blood samples were collected at each stage and analyzed for biomarkers and laboratory parameters. Concentrations of all studied biomarkers were significantly higher at S2, whereas at S3 did not differ significantly compared to S1. Running a marathon by an amateur causes an acute rise in biomarkers of cardiac injury and stress. Whether repetitive bouts of intensive exercise elicit long-term adverse cardiovascular effects in amateur marathoners needs further research.
The cardiac biomarkers NT-proANP and NT-proBNP  can reliably be measured with Biomedica´s ELISA kits: 
√ CE-marked – for IVD use in the EU
√ CONVENIENT – for serum & plasma
√ RELIABLE – Full validation package