FIGHTING CANCER - Inhibition of RANK/RANKL Signaling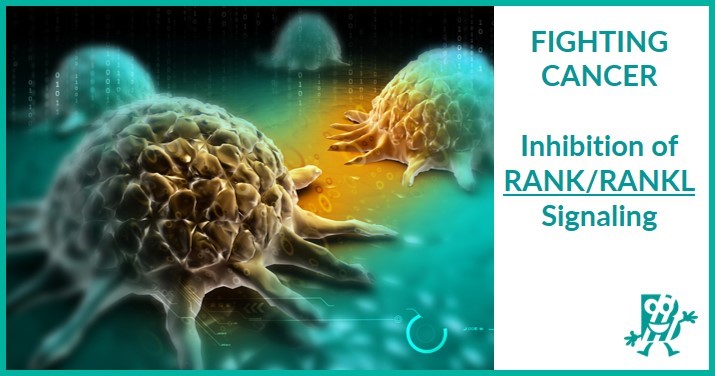 FIGHTING CANCER - Inhibition of RANK/RANKL Signaling
15 September, 2021
RANKL (receptor activator of the nuclear factor-κB ligand) is a key mediator of bone remodeling. RANKL plays an important role in breast carcinogenesis,  as it initiates a pre-metastatic niche in bone. Therapeutical targeting of RANKL has become part of the standard care of diseases with bone loss including bone metastasis.  RANKL inhibition is emerging as  a novel cancer immunotherapy.  Clinical trials are exploring the use of RANKL blockage as a combined treatment with immune checkpoint inhibitors to fight cancer.
Abstract
The Roadmap of RANKL/RANK Pathway in Cancer. Casimiro S, Vilhais G, Gomes I, Costa L Cells. 2021 Aug 4;10(8):1978.
The receptor activator of the nuclear factor-κB ligand (RANKL)/RANK signaling pathway was identified in the late 1990s and is the key mediator of bone remodeling. Targeting RANKL with the antibody denosumab is part of the standard of care for bone loss diseases, including bone metastases (BM). Over the last decade, evidence has implicated RANKL/RANK pathway in hormone and HER2-driven breast carcinogenesis and in the acquisition of molecular and phenotypic traits associated with breast cancer (BCa) aggressiveness and poor prognosis. This marked a new era in the research of the therapeutic use of RANKL inhibition in BCa. RANKL/RANK pathway is also an important immune mediator, with anti-RANKL therapy recently linked to improved response to immunotherapy in melanoma, non-small cell lung cancer (NSCLC), and renal cell carcinoma (RCC). This review summarizes and discusses the pre-clinical and clinical evidence of the relevance of the RANKL/RANK pathway in cancer biology and therapeutics, focusing on bone metastatic disease, BCa onset and progression, and immune modulation.
Biomedica offers a highly sensitive ELISA to measure free soluble RANKL in serum
RANKL Kit highlights:
• CE marked – widely cited in clinical studies
• Reliable – validated according to international guidelines
• High sensitivity – measurable concentrations in healthy subjects
• HIGH quality guaranteed 
Related products
Osteoprotegerin (OPG) ELISA  , DKK-1 ELISA ,  Sclerostin ELISA
IL-6 ELISA  ,  VEGF ELISA ,  Angiopoietin-2 ELISA
Related publications
Targeting the RANKL/RANK/OPG Axis for Cancer Therapy. Front Oncol. Ming J, Cronin SJF, Penninger JM.2020.10:1283.
The Role of the RANKL/RANK Axis in the Prevention and Treatment of Breast Cancer with Immune Checkpoint Inhibitors and Anti-RANKL. Simatou A, Sarantis P, Koustas E, Papavassiliou AG, Karamouzis MV.Int J Mol Sci. 2020. 21(20):7570.