ENDOSTATIN - Biomarker in Kidney & Heart Disease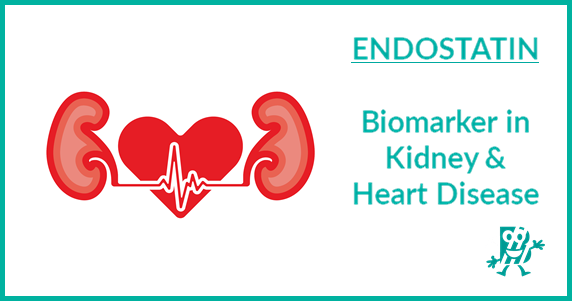 ENDOSTATIN - Biomarker in Kidney & Heart Disease
4 October, 2021
Chronic kidney disease is common in patients with heart failure and is associated with high mortality and morbidity. Biomarkers are needed that can accurately predict disease progression. Recent studies have provided evidence that circulating ENDOSTATIN increases significantly in patients with kidney and heart failure and may also contribute to disease progression.  Learn more in this latest published review: "Endostatin in Renal and Cardiovascular Diseases" full-text review link
Check out our fully validated human Endostatin ELISA  – developed and manufactured by Biomedica.
– For serum, plasma, and urine samples
– Easy – results in 4.5 h with only 20µl sample / well
– Fully validated assay according to international quality guidelines

Also available: Mouse/Rat Endostatin ELISA – only 5µl sample volume required
Related ELISA kits
Sclerostin,  Angiopoietin-2,  FGF23,  IL-6
Abstract
Endostatin, a protein derived from the cleavage of collagen XVIII by the action of proteases, is an endogenous inhibitor known for its ability to inhibit proliferation and migration of endothelial cells, angiogenesis, and tumor growth. Angiogenesis is defined as the formation of new blood vessels from pre-existing vasculature, which is crucial in many physiological processes, such as embryogenesis, tissue regeneration, and neoplasia. Summary: Increasing evidence shows that dysregulation of angiogenesis is crucial for the pathogenesis of renal and cardiovascular diseases. Endostatin plays a pivotal role in the regulation of angiogenesis. Recent studies have provided evidence that circulating endostatin increases significantly in patients with kidney and heart failure and may also contribute to disease progression. Key Message: In the current review, we summarize the latest findings on preclinical and clinical studies analyzing the impact of endostatin on renal and cardiovascular diseases.
Related publications