Easy & Reliable – Biomedica´s Cytokine ELISA Kits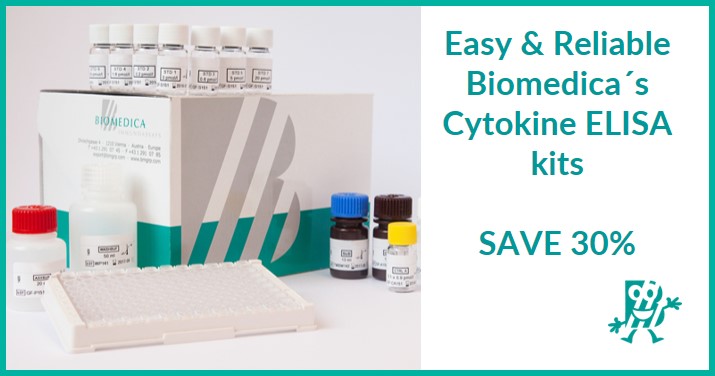 Easy & Reliable – Biomedica´s Cytokine ELISA Kits
29 September, 2021
Biomedica offers fully validated and reliable cytokine assays for your clinical research – High Quality and Ready to Use.
Save 30% on any of our new cytokine ELISA kits. Use promo code BI-CytELISA. Valid until 12/31/21
IL-6, VEGF, Angiopoietin-2 ELISA kits for accurate and reliable results.
EASY ready to use calibrators & controls included
HIGH SENSITIVITY measurable values in serum and plasma
FULL VALIDATION PACKAGE – assays are optimized for clinical samples
Request your promotion discount now info@bmgrp.com
Related reviews:
IL-6 in inflammation, autoimmunity and cancer. Hirano T. Int Immunol. 2021. 33(3):127-148. Full text link.
Abstract:
IL-6 is involved both in immune responses and in inflammation, hematopoiesis, bone metabolism and embryonic development. IL-6 plays roles in chronic inflammation (closely related to chronic inflammatory diseases, autoimmune diseases and cancer) and even in the cytokine storm of corona virus disease 2019 (COVID-19). Acute inflammation during the immune response and wound healing is a well-controlled response, whereas chronic inflammation and the cytokine storm are uncontrolled inflammatory responses. Non-immune and immune cells, cytokines such as IL-1β, IL-6 and tumor necrosis factor alpha (TNFα) and transcription factors nuclear factor-kappa B (NF-κB) and signal transducer and activator of transcription 3 (STAT3) play central roles in inflammation. Synergistic interactions between NF-κB and STAT3 induce the hyper-activation of NF-κB followed by the production of various inflammatory cytokines. Because IL-6 is an NF-κB target, simultaneous activation of NF-κB and STAT3 in non-immune cells triggers a positive feedback loop of NF-κB activation by the IL-6–STAT3 axis. This positive feedback loop is called the IL-6 amplifier (IL-6 Amp) and is a key player in the local initiation model, which states that local initiators, such as senescence, obesity, stressors, infection, injury and smoking, trigger diseases by promoting interactions between non-immune cells and immune cells. This model counters dogma that holds that autoimmunity and oncogenesis are triggered by the breakdown of tissue-specific immune tolerance and oncogenic mutations, respectively. The IL-6 Amp is activated by a variety of local initiators, demonstrating that the IL-6–STAT3 axis is a critical target for treating diseases.
VEGF inhibition in urothelial cancer: the past, present and future. Ghafouri S, Burkenroad A, Pantuck M, Almomani B, Stefanoudakis D, Shen J, Drakaki A. World J Urol. 2021. 39(3):741-749. Abstract link.
Abstract:
Purpose: To describe the role of anti-angiogenic agents that have been used as a treatment approach for locally advanced or metastatic urothelial cancers and to propose future directions.
Methods: PubMed/MEDLINE was searched for articles related to VEGF inhibition and locally advanced or metastatic urothelial cancer.
Results: Angiogenesis is a fundamental process for urothelial cancer initiation and progression. First-line therapy for locally advanced or metastatic urothelial cancer includes cisplatin-based chemotherapy combinations; subsequent systemic therapy includes taxanes, nanoparticle albumin-bound (nab) paclitaxel, or pemetrexed. More recently, several anti-PD-L1 and anti-PD-1 antibodies have shown promising activity in the first-line and post-platinum setting; however, immunotherapy remains ineffective in most patients. FGFR inhibitor erdafitinib was recently approved in the third-line setting. Studies on bevacizumab, pazopanib and ramucirumab have shown improved response rates when added to chemotherapy in selected patients, but have not led to overall survival (OS) benefit in randomized controlled studies.
Conclusion: Anti-angiogenic agents have shown promise in recent studies treating locally advanced or metastatic urothelial cancer. However, further work is needed to elucidate ideal treatment combinations in selected patient populations to maximize benefit, with the ultimate goal of being added to the FDA-approved treatment armamentarium for this disease.
Angiopoietin inhibitors: A review on targeting tumor angiogenesis. Parmar D, Apte M. Eur J Pharmacol. 2021. 5;899:174021. Abstract link.
Abstract:
Angiogenesis is the process of formation of new blood vessels from existing ones. Vessels serve the purpose of providing oxygen, nutrients and removal of waste from the cells. The physiological angiogenesis is a normal process and is required in the embryonic development, wound healing, menstrual cycle. For homeostasis, balance of pro angiogenic factors and anti angiogenic factors like is important. Their imbalance causes a process known as "angiogenic switch" which leads to various pathological conditions like inflammation, tumor and restenosis. Like normal cells, tumor cells also require oxygen and nutrients to grow which is provided by tumor angiogenesis. Hence angiogenic process can be inhibited to prevent tumor growth. This gives rise to study of anti angiogenic drugs. Currently approved anti angiogenic drugs are mostly VEGF inhibitors, but VEGF inhibitors have certain limitations like toxicity, low progression free survival (PFS), and resistance to anti VEGF therapy. This article focuses on angiopoietins as alternative and potential targets for anti angiogenic therapy. Angiopoietins are ligands of Tie receptor and play a crucial role in angiogenesis, their inhibition can prevent many tumor growths even on later stages of development. We present current clinical and preclinical stages of angiopoietin inhibitors. Drugs studied in the article are selective as well as non-selective inhibitors of angiopoietin 2 like Trebananib (AMG 386), AMG 780, REGN 910, CVX 060, MEDI 3617 and dual inhibitors of angiopoietin 2 and VEGF like Vanucizumab and RG7716. The angiopoietin inhibitors show promising results alone and in combination with VEGF inhibitors in various malignancies.
Recent updates in the clinical trials of therapeutic monoclonal antibodies targeting cytokine storm for the management of COVID-19. Patel S, Saxena B, Mehta P. Heliyon. 2021. 7(2):e06158. Full text link.
Abstract:
Clinical studies have identified a cytokine storm in the third stage of disease progression in critical ill patients with coronavirus disease 2019 (COVID-19). Hence, effectively suppressing the uncontrolled immune response of the host towards the invaded viruses in a cytokine storm is a critical step to prevent the deterioration of patient conditions and decrease the rate of mortality. Therapeutic monoclonal antibodies (mAbs) are found to be effective for the management of acute respiratory distress syndrome in patients with COVID-19. In this review, we compiled all therapeutic mAbs targeting cytokine storm, which are in clinical trials for its repurposing in the management of COVID-19. Compilation of clinical trial data indicated that therapeutic monoclonal antibodies targeting interleukins (IL-6, IL-1ra, IL-8, IL-1β, IL-17A, IL-33), interferon-gamma, tumor necrosis factor-alpha, P-selectin, connective tissue growth factor, plasma kallikrein, tumor necrosis factor superfamily 14, granulocyte macrophage colony stimulating factor, colony stimulating factor 1 receptor, C-C chemokine receptor type 5, cluster of differentiation 14 and 147, vascular endothelial growth factor, programmed cell death protein-1, Angiopoietin – 2, human factor XIIa, complementary protein 5, natural killer cell receptor G2A, human epidermal growth factor receptor 2, immunoglobulin-like transcript 7 receptor, complement component fragment 5a receptor and viral attachment to the human cell were under investigation for management of severely ill patients with COVID-19. Among these, about 65 clinical trials are targeting IL-6 inhibition as the most promising one and Tocilizumab, an IL-6 inhibitor is considered to be the potential candidate to treat cytokine storm associated with the COVID-19.