Discover Biomedica Biomarker ELISA Kits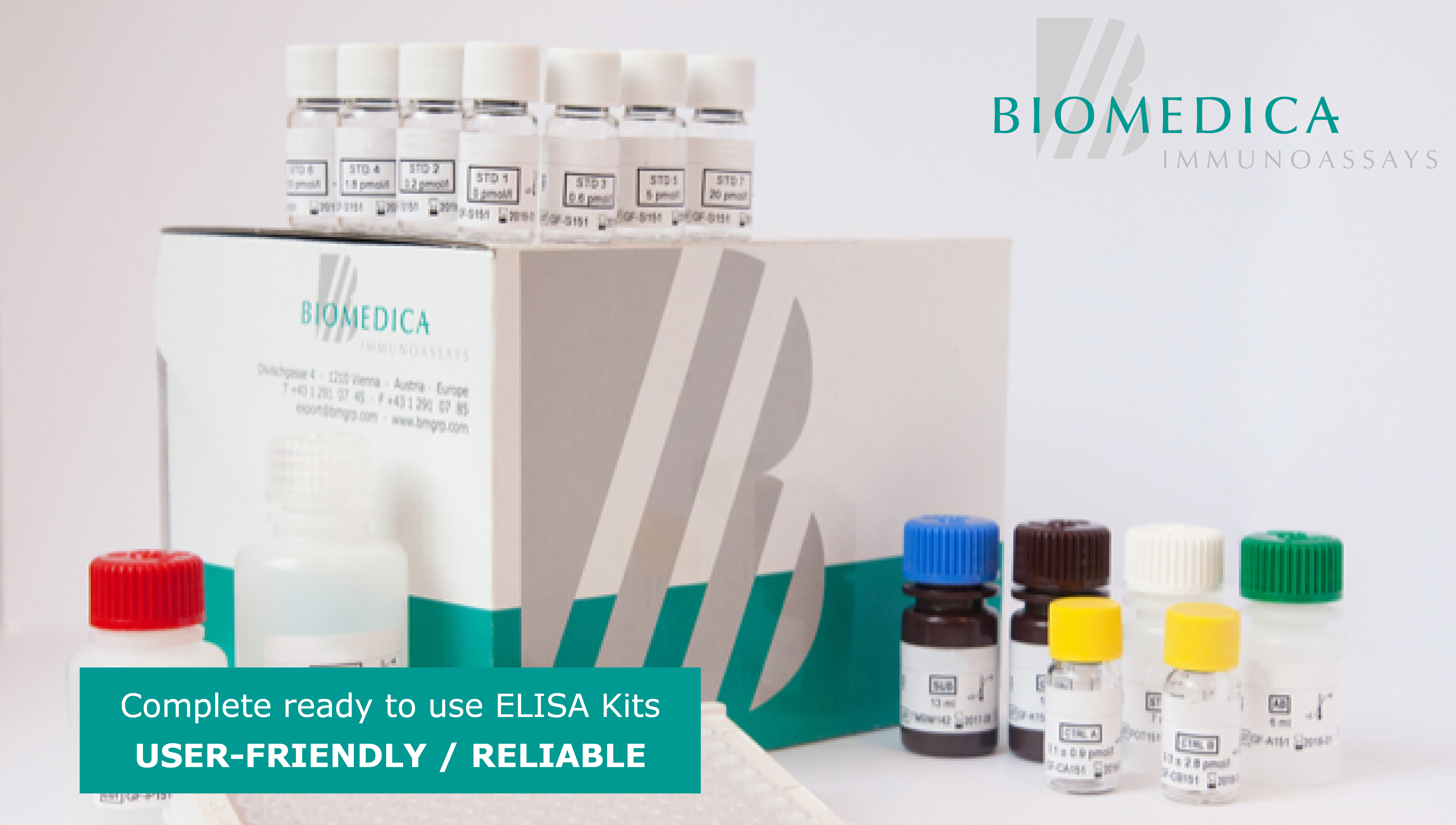 Discover Biomedica Biomarker ELISA Kits
28 April, 2022
Discover Biomedica Biomarker ELISA Kits for Biomarkers in Bone-Kidney-Heart diseases.
Developed & manufactured by Biomedica` Immunoassays
Austrian Quality!
√  WIDELY CITED  in +1500  publications
Discover Biomedica Biomarker ELISA Kits
Biomarker Assays
√  Natriuretic Peptides                           NT-proBNP, NT-proANP (for human and rat samples), NT-proCNP
√  Endothelins                                              Big Endothelin-1
√  Wnt inhibitors                                        Sclerostin, Dickkopf-1 (DKK-1)
√  Bone metabilism                                   Osteoprotegerin (OPG), soluble free RANKL (sRANKL)
√  Nephrology & transplant                  Fibroblast growth factor 23 (FGF23 c-terminal and FGF23 intact),
                                                                              Endostatin, Angiopoietin-2 (human, mouse and rat) , Neuropilin-1,
                                                                              Vanin-1 urine (human, mouse and rat), anti-C4d antibody
RELATED CITATIONS
Big Endothelin-1 (BigET-1)
Plasma Big Endothelin-1 Level Predicted 5-Year Major Adverse Cardiovascular Events in Patients With Coronary Artery Ectasia. Cai Z, Wang H, Yuan S, Yin D, Song W, Dou K.Front Cardiovasc Med. 2021 Nov 29;8:768431. doi: 10.3389/fcvm.2021.768431. PMID: 34912865; PMCID: PMC8667227.
Abstract
Background: Coronary artery ectasia (CAE) is found in about 1% of coronary angiography and is associated with poor clinical outcomes. The prognostic value of plasma big Endothelin-1 (ET-1) in CAE remains unknown. Methods: Patients with angiographically confirmed CAE from 2009 to 2015, who had big ET-1 data available were included. The primary outcome was 5-year major adverse cardiovascular events (MACE), defined as a component of cardiovascular death and non-fatal myocardial infarction (MI). Patients were divided into high or low big ET-1 groups using a cut-off value of 0.58 pmol/L, according to the receiver operating characteristic curve. Kaplan-Meier method, propensity score method, and Cox regression were used to assess the clinical outcomes in the 2 groups. Results: A total of 992 patients were included, with 260 in the high big ET-1 group and 732 in the low big ET-1 group. At 5-year follow-up, 57 MACEs were observed. Kaplan-Meier analysis and univariable Cox regression showed that patients with high big ET-1 levels were at increased risk of MACE (9.87 vs. 4.50%; HR 2.23, 95% CI 1.32-3.78, P = 0.003), cardiovascular death (4.01 vs. 1.69%; HR 2.37, 95% CI 1.02-5.48, P = 0.044), and non-fatal MI (6.09 vs. 2.84%; HR 2.17, 95% CI 1.11-4.24, P = 0.023). A higher risk of MACE in the high big ET-1 group was consistent in the propensity score matched cohort and propensity score weighted analysis. In multivariable analysis, a high plasma big ET-1 level was still an independent predictor of MACE (HR 1.82, 95% CI 1.02-3.25, P = 0.043). A combination of high plasma big ET-1 concentrate and diffuse dilation, when used to predict 5-year MACE risk, yielded a C-statistic of 0.67 (95% CI 0.59-0.74). Conclusion: Among patients with CAE, high plasma big ET-1 level was associated with increased risk of MACE, a finding that could improve risk stratification.