Custom Analytical Service Measurements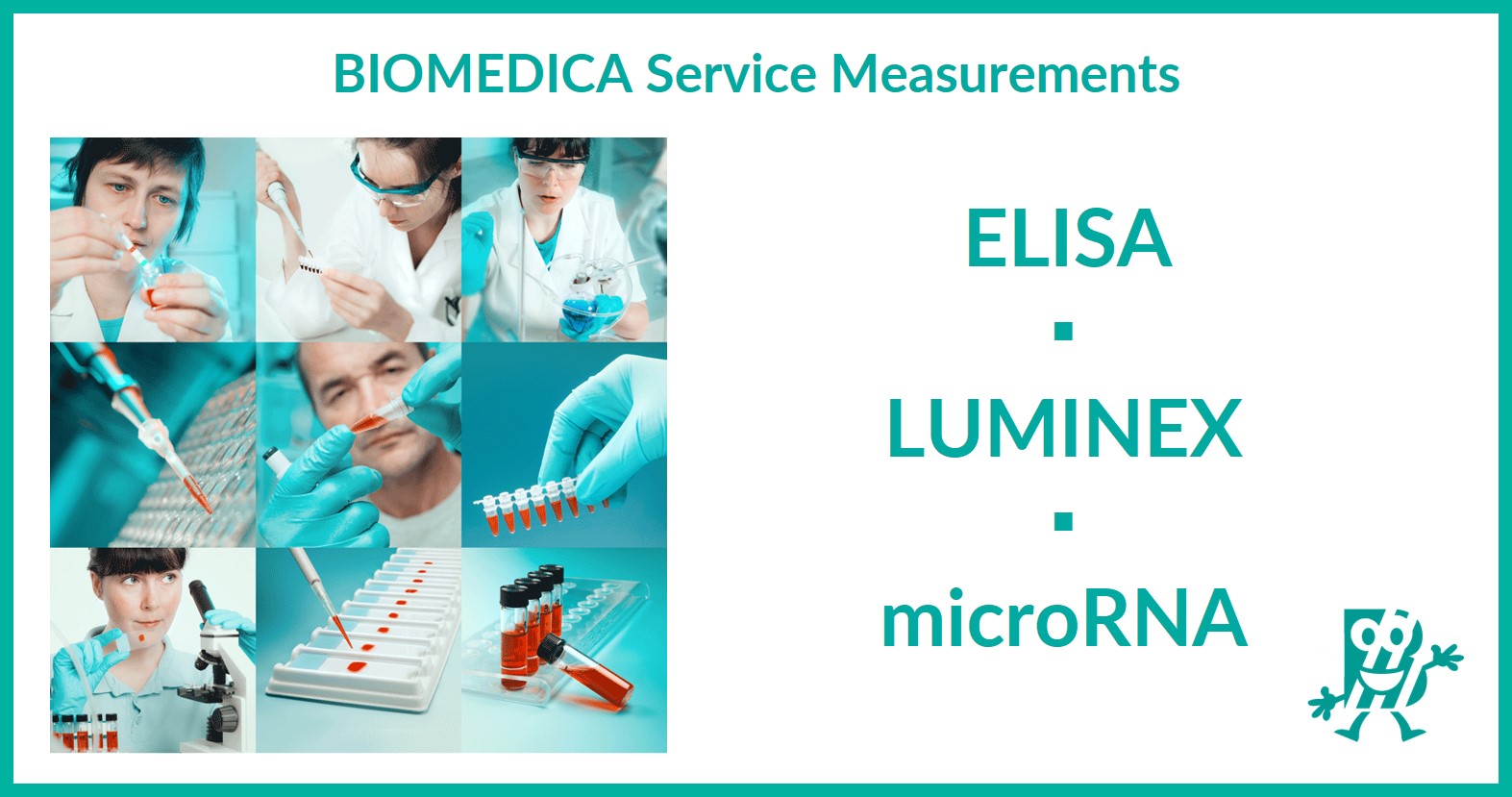 Custom Analytical Service Measurements
26 January, 2023
Do you need support in meeting your research goals? We can help! We offer custom analytical service measurements for ELISA Kits, Luminex Assays, or microRNA Analysis .
GET IN TOUCH at Biomedica for your custom analytical testing service.
Custom Analytical Service Measurements for ELISA, Luminex, microRNA
Why choose Biomedica Services?
• Expertise – experienced laboratory staff
• Quality – highest quality equipment
• Flexibility – customized according to your project needs and budget
• Speed – rapid turn-around time to meet your deadlines
• Results – verified and comprehensive results presented in an analytical report
Click here for detailed information on our Service Measurements 
RELATED PUBLICATIONS
Comprehensive Characterization of Platelet-Enriched MicroRNAs as Biomarkers of Platelet Activation.
Krammer TL, Zeibig S, Schrottmaier WC, Pirabe A, Goebel S, Diendorfer AB, Holthoff HP, Assinger A, Hackl M. Cells. 2022 Apr 7;11(8):1254. doi: 10.3390/cells11081254. PMID: 35455934; PMCID: PMC9030873.
Abstract
Dysregulation of platelet function is causally connected to thrombus formation and cardiovascular diseases. Therefore, assessing platelet reactivity is crucial. However, current platelet function tests come with pitfalls, limiting clinical use. Plasma miRNA signatures have been suggested as novel biomarkers for predicting/diagnosing cardiovascular diseases and monitoring antiplatelet therapy. Here, we provide results from a comprehensive study on the feasibility of using circulatory platelet miRNAs as surrogate markers of platelet activation. We performed small RNA-Seq on different blood cell types to confirm known and identify novel platelet-enriched miRNAs and validated a panel of 16 miRNAs using RT-qPCR. To identify the main carrier of these blood-based platelet miRNAs, we enriched and analyzed distinct microvesicle populations. Platelets were stimulated with GPVI and P2Y12 agonists in vitro to monitor the release of the selected miRNAs following activation. Finally, the miRNA panel was also measured in plasma from mice undergoing the Folts intervention (recurrent thrombus formation in the carotid artery). Applying an unbiased bioinformatics-supported workflow to our NGS data, we were able to confirm a panel of previously established miRNA biomarker candidates and identify three new candidates (i.e., miR-199a-3p, miR-151a-5p, and miR-148b-3p). Basal levels of platelet-derived miRNAs in plasma were mainly complexed with proteins, not extracellular vesicles. We show that changes in miRNA levels due to platelet activation are detectable using RT-qPCR. In addition, we highlight limitations of studying the in vitro release of miRNAs from platelets. In vivo thrombosis resulted in significant elevations of platelet-derived miRNA levels in mice. In conclusion, we provide in-depth evidence that activated platelets release miRNAs, resulting in measurable changes in circulatory miRNA levels, rendering them promising biomarker candidates.
Multiplex Soluble Biomarker Analysis from Pleural Effusion.
Biomolecules. Javadi J, Dobra K, Hjerpe A. 2020 Jul 28;10(8):1113. doi: 10.3390/biom10081113. PMID: 32731396; PMCID: PMC7464384.
Abstract
Malignant pleural mesothelioma (MPM) is a highly aggressive and therapy resistant pleural malignancy that is caused by asbestos exposure. MPM is associated with poor prognosis and a short patient survival. The survival time is strongly influenced by the subtype of the tumor. Dyspnea and accumulation of pleural effusion in the pleural cavity are common symptoms of MPM. The diagnostic distinction from other malignancies and reactive conditions is done using histopathology or cytopathology, always supported by immunohistochemistry, and sometimes also by analyses of soluble biomarkers in effusion supernatant. We evaluated the soluble angiogenesis related molecules as possible prognostic and diagnostic biomarkers for MPM by Luminex multiplex assay. Pleural effusion from 42 patients with malignant pleural mesothelioma (MPM), 36 patients with adenocarcinoma (AD) and 40 benign (BE) effusions were analyzed for 10 different analytes that, in previous studies, were associated with angiogenesis, consisting of Angiopoietin-1, HGF, MMP-7, Osteopontin, TIMP-1, Galectin, Mesothelin, NRG1-b1, Syndecan-1 (SDC-1) and VEGF by a Human Premixed Multi-Analyte Luminex kit. We found that shed SDC-1 and MMP-7 levels were significantly lower, whereas Mesothelin and Galectin-1 levels were significantly higher in malignant mesothelioma effusions, compared to adenocarcinoma. Galectin-1, HGF, Mesothelin, MMP-7, Osteopontin, shed SDC-1, NRG1-β1, VEGF and TIMP-1 were significantly higher in malignant pleural mesothelioma effusions compared to benign samples. Moreover, there is a negative correlation between Mesothelin and shed SDC-1 and positive correlation between VEGF, Angiopoietin-1 and shed SDC-1 level in the pleural effusion from malignant cases. Shed SDC-1 and VEGF have a prognostic value in malignant mesothelioma patients. Collectively, our data suggest that MMP-7, shed SDC-1, Mesothelin and Galectin-1 can be diagnostic and VEGF and SDC-1 prognostic markers in MPM patients. Additionally, Galectin-1, HGF, Mesothelin, MMP-7, Osteopontin, shed SDC-1 and TIMP-1 can be diagnostic for malignant cases.