BIOMEDICA Quality CYTOKINE KITS for affordable & efficient research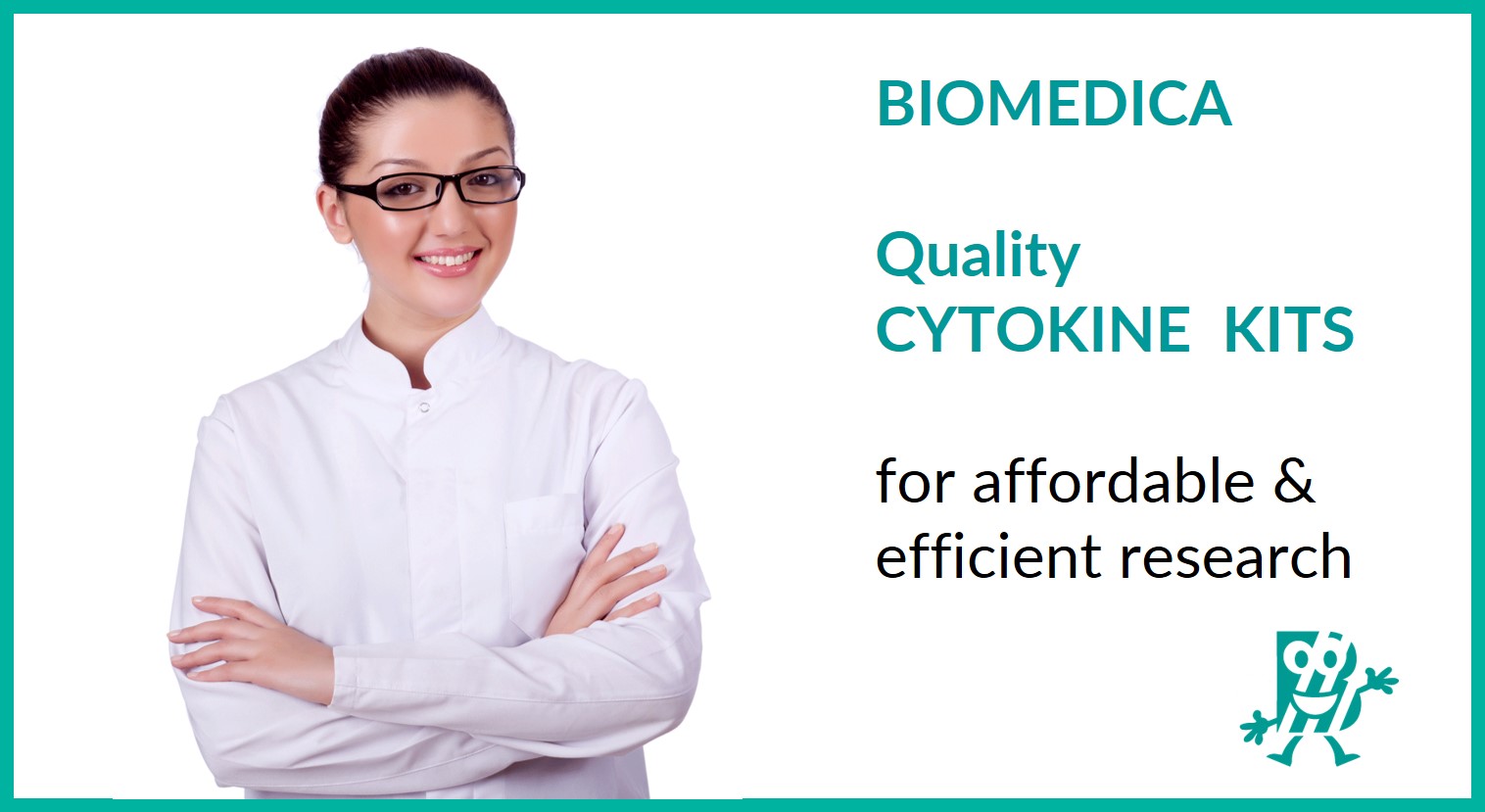 BIOMEDICA Quality CYTOKINE KITS for affordable & efficient research
28 June, 2022
My name is Lan Chi. I am part of the Biomedica assay quality management team. All our ELISA kits undergo a stringent quality control process, ensuring reliable and consistent results. We are located right in the heart of Europe.  I am happy to introduce our new human Cytokine ELISA Kits  – developed & manufactured by Biomedica.
IL-6 (Interleukin-6)                         high sensitivity – detectable levels
VEGF                                                       low sample volume – 10µl
ANGIOPOIETIN-2                          optimized assay range – no predilution
 All kits include color coded, ready to use prediluted standards and controls.
USER-FRIENDLY & RELIABLE ELISA kits
for reproducible & consistent results
Use of WHO International Standards
for kit calibration & harmonization
international quality guidelines
Biomedica ´s ELISA assay kits are validated according to international quality guidelines (ICH, EMEA, FDA).  The assay validation data are shown on the respective product pages.  Our validation data include  experiments on parallelism (dilution of samples containing elevated endogenous levels of the protein of interest) and dilution linearity (dilution of samples containing levels of endogenous and recombinant protein of interest) as well as precision, accuracy, sample stability and data showing the characterization of the antibodies utilized in the ELISA kits.
Related information:
 The Biomedica human Angiopoietin-2 ELISA  (cat.no. BI-ANG2) has been cited in the following recent publication:
Angiopoietin-2 predicts all-cause mortality in male but not female end-stage kidney disease patients on hemodialysis.
Chu C et al., Nephrol Dial Transplant. 2022 ;  23;37(7):1348-1356.
A detailed description of Biomedica´s Angiopoietin-2 ELISA is shown in the following poster .  
Check out the validation data of our human IL-6 ELISA