BIOMEDICA Cytokine ELISA Kits for affordable & efficient research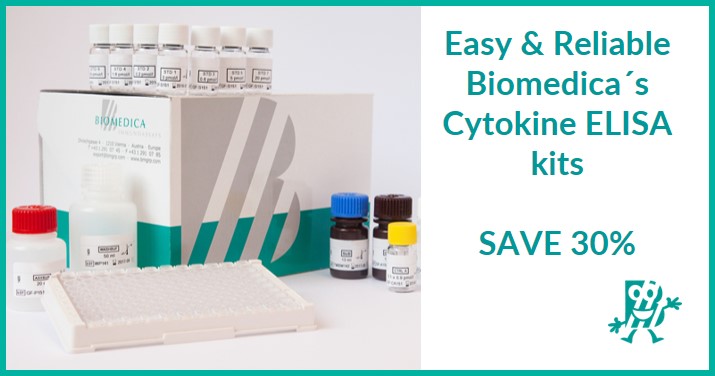 BIOMEDICA Cytokine ELISA Kits for affordable & efficient research
10 August, 2022
Try our unique CYTOKINE ELISA Kits – and save 30%! 
ELISA Kits for affordable and efficient research : Use promo code BIcytELISA. Valid until 12/31/22
√  Human IL-6 ELISA – high sensitivity & detectable IL-6 levels
√  Human VEGF ELISA – only 10µl of serum or plasma sample
√  Human Angiopoietin-2 ELISA – immediate results-optimized for clinical samples
 All kits include color coded, ready to use prediluted standards and controls.
Contact us NOW for your promotion discount  info@bmgrp.com
We validate all the BIOMEDICA ELISA assays  according to international quality standards and follow guidelines of ICH, EMEA and FDA. Thus, you can find the validation data of every assay on the respective product pages on our website. Specifically, the data include spike-recovery and parallelism, dilution linearity experiments including precision and accuracy testing. In addition, every analyte is tested on its stability in the respective sample matrix, including long term stability. Finally, the antibodies utilized in the BIOMEDICA Elisa kits are characterized and epitope mapped. Click here to upload the validation data file on our human Interleukin-6 (IL-6) ELISA assay kit. 
28 June, 2022
All our ELISA kits undergo a stringent quality control process, ensuring reliable and consistent results.  We are located right in the heart of Europe.  developed & manufactured by Biomedica.