Biomedica @ Osteologie 2020 in Salzburg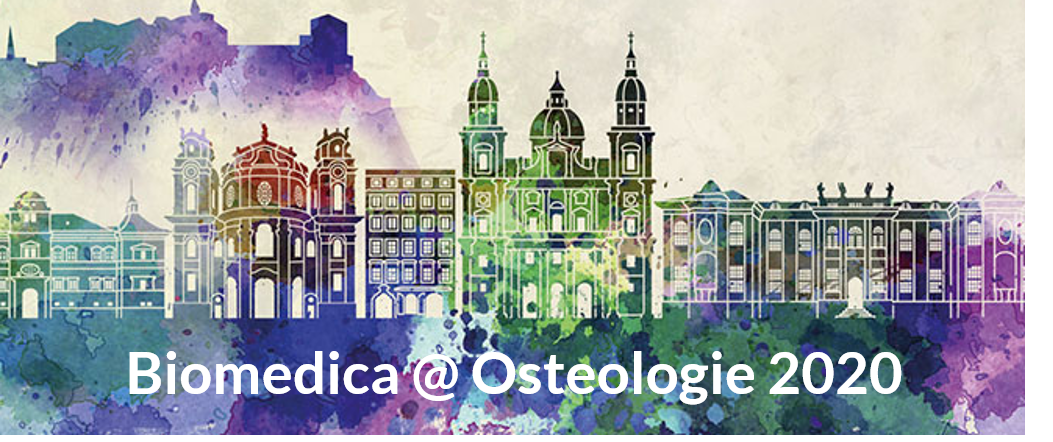 Biomedica @ Osteologie 2020 in Salzburg
17 February, 2020
Meet us at the Osteologie 2020, hosted by the Deutsche Gesellschaft für Endokrinologie and the Österreichische Gesellschaft für Knochen- und Mineralstoffwechsel, taking place from 12-14 March 2020 in Salzburg, Austria!
We will exhibit together with our partners Fianostics & TAmiRNA at booth #1.
Moreover, we will present out new VEGF-A ELISA at our poster "Novel VEGF-A ELISA allows sensitive quantification of human total bioactive VEGF-A" on Thursday, 12th March between 5-5.30pm.
In addition, our TAmiRNA partner Dr. Matthias Hackl will give two talks "mikroRNAs als neue therapeutische Targets für muskuloskelettale
Erkrankungen" and "MicroRNA biomarkers for osteoporosis – lessons learned: opportunities and challenges for diagnosis and monitoring of bone diseases" at Thursday at 8.10 am and Friday at 4.00 pm respectively.
Another focus at this year's Osteologie 2020 is on the use of the NT-proBNP & FGF23 ELISAs, Klotho FIA and osteomiR kits in the osteology field.
More detailed, NT-proBNP is used for cardiovascular risk stratification in rheumatoid arthritis patients receiving NSAR therapy. FGF23 and Klotho play an important role in the regulation of phosphate and calcium homeostasis. osteomiR measures a panel of miRNAs to assess fracture risk.
Please come by- we'd love to see you there!