Biomarkers in Cancer Research: NEUROPILIN-1 is a checkpoint target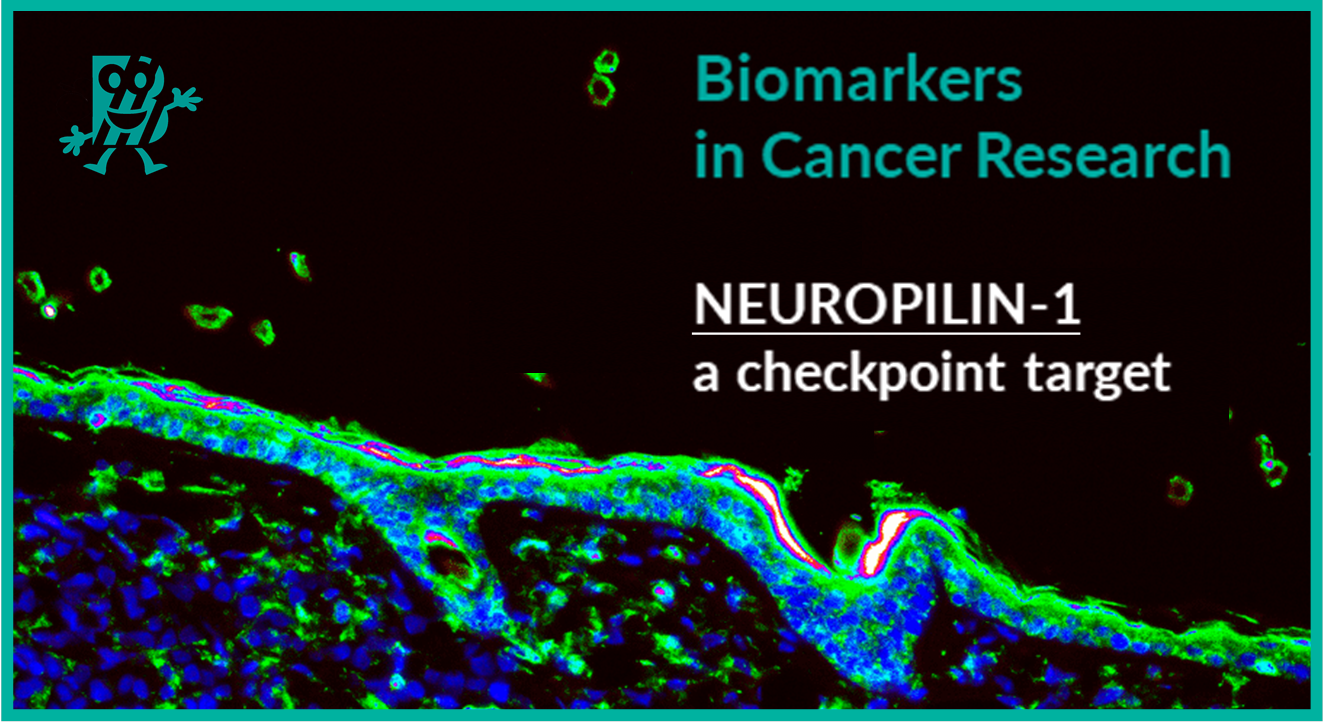 Biomarkers in Cancer Research: NEUROPILIN-1 is a checkpoint target
23 May, 2022
Globally, about 1 in 6 deaths is related to cancer. Advances in cancer research have improved the prevention, the detection, and the treatment of cancer. Understanding on how cancers starts, grows and spreads is important for cancer treatment. Biomarkers play a critical role at all stages of the disease and serve as therapeutic targets (1).
The biomarker Neuropilin-1 (NRP1) has gained renewed attention as it is implicated in promoting tumor progression. It acts as a co-receptor to VEGF (Vascular Endothelial Growth Factor) and induces angiogenesis, the process of the formation of new blood-vessels (2). NRP-1 is expressed in a variety of cancers including lung, prostate, pancreas or colon carcinoma. In metastatic melanoma, NRP-1 plays a crucial role in melanoma aggressiveness and evidence supports its use as a target for therapies (3) .
More recently, Neuropilin-1 has been identified as a checkpoint target with unique implications for cancer immunology and immunotherapy (4). This review discusses the increasing literature on Neuropilin-1 mediated immune modulation providing a rationale to categorize NRP1 as a key checkpoint in the tumor microenvironment (TME) as well as a promising immunotherapeutic target.
Did you know:  Neuropilin-1 can easily be detected in serum, plasma and in cell culture supernatants using a conventional ELISA kit?
The assay is fully validated for clinical use in human samples but also works in non-human samples. Only 10µl sample is required.
 For more information contact us  
 Neuropilin-1 (NRP1) ELISA assay highlights:
-Highly specific using epitope mapped antibodies
-Detects free and ligand-bound soluble NRP1
-10 µl sample/well
  Literature:
Neuropilin-1: a checkpoint target with unique implications for cancer immunology and immunotherapy
Abstract
Checkpoint blockade immunotherapy established a new paradigm in cancer treatment: for certain patients curative treatment requires immune reinvigoration. Despite this monumental advance, only 20%-30% of patients achieve an objective response to standard of care immunotherapy, necessitating the consideration of alternative targets. Optimal strategies will not only stimulate CD8+ T cells, but concomitantly modulate immunosuppressive cells in the tumor microenvironment (TME), most notably regulatory T cells (Treg cells). In this context, the immunoregulatory receptor Neuropilin-1 (NRP1) is garnering renewed attention as it reinforces intratumoral Treg cell function amidst inflammation in the TME. Loss of NRP1 on Treg cells in mouse models restores antitumor immunity without sacrificing peripheral tolerance. Enrichment of NRP1+ Treg cells is observed in patients across multiple malignancies with cancer, both intratumorally and in peripheral sites. Thus, targeting NRP1 may safely undermine intratumoral Treg cell fitness, permitting enhanced inflammatory responses with existing immunotherapies. Furthermore, NRP1 has been recently found to modulate tumor-specific CD8+ T cell responses. Emerging data suggest that NRP1 restricts CD8+ T cell reinvigoration in response to checkpoint inhibitors, and more importantly, acts as a barrier to the long-term durability of CD8+ T cell-mediated tumor immunosurveillance. These novel and distinct regulatory mechanisms present an exciting therapeutic opportunity. This review will discuss the growing literature on NRP1-mediated immune modulation which provides a strong rationale for categorizing NRP1 as both a key checkpoint in the TME as well as an immunotherapeutic target with promise either alone or in combination with current standard of care therapeutic regimens.
Keywords: immunomodulation; immunotherapy; tumor microenvironment.
Check out our biomarker ELISA kits for cancer research 
√  USER-FRIENDLY – ready to use calibrators & controls
√  RELIABLE – full validation package
-Neuropilin-1 – BI-20409
-Semaphorin 4D – BI-20405
-Periostin – BI-20433
-VEGF – BI-VEGF
-Angiopoietin-2 – BI-ANG2