Biomarkers in Bone Biology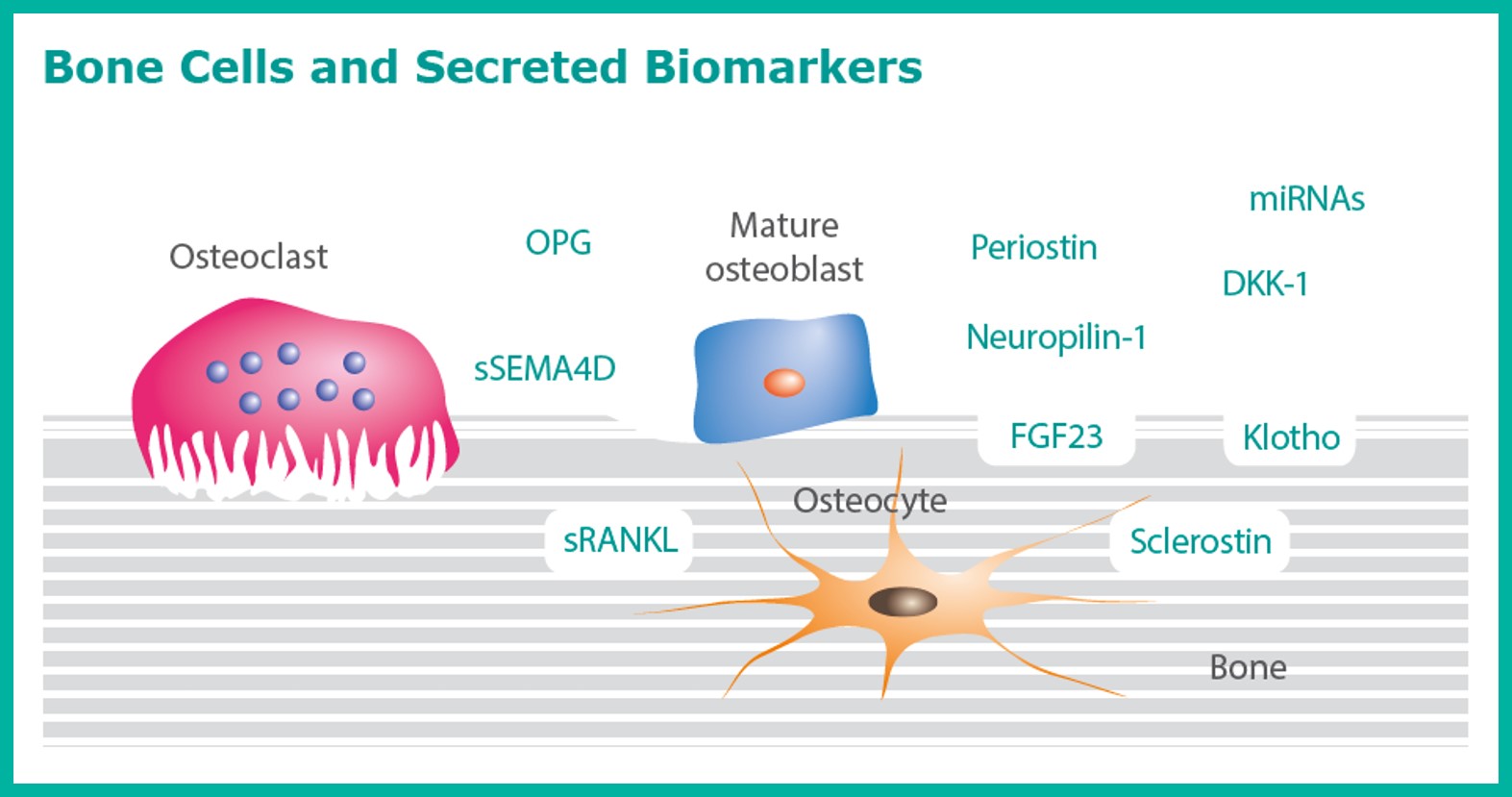 Biomarkers in Bone Biology
9 January, 2023
Bones have many important biological functions. Bone biomarkers have gained attention in clinical research for the assessment of bone-related diseases. Some of the biomarker proteins have been found to represent useful targets for therapeutic antibodies.
Biomarkers in Bone Biology
Function of the human skeleton
The human skeletal system gives the body it´s structure and helps to protect and support the internal organs. It forms a part of the muscular-skeletal systems that helps the body to move. Throughout our lifetime, the human skeleton undergoes constant remodeling. This dynamic process, degrading bone and replacing it with new tissue maintains bone mass. The continuous cycle of bone resorption and bone growth is also known as bone metabolism.
Bone remodeling
Bone remodeling is a tightly regulated process performed by hormones, cell-signaling molecules, and bone cells. These specific bone cells are osteoclasts, osteoblasts, and osteocytes. The cells are in constant communication with each other through secreted factors, such as osteoprotegerin, RANKL, and sclerostin. These regulatory systems keep the bone remodeling balanced. Imbalances in bone metabolism can lead to bone diseases.
Role of RANKL, RANK, and OPG in bone biology
 Bones are broken down by osteoclasts and rebuilt by osteoblasts.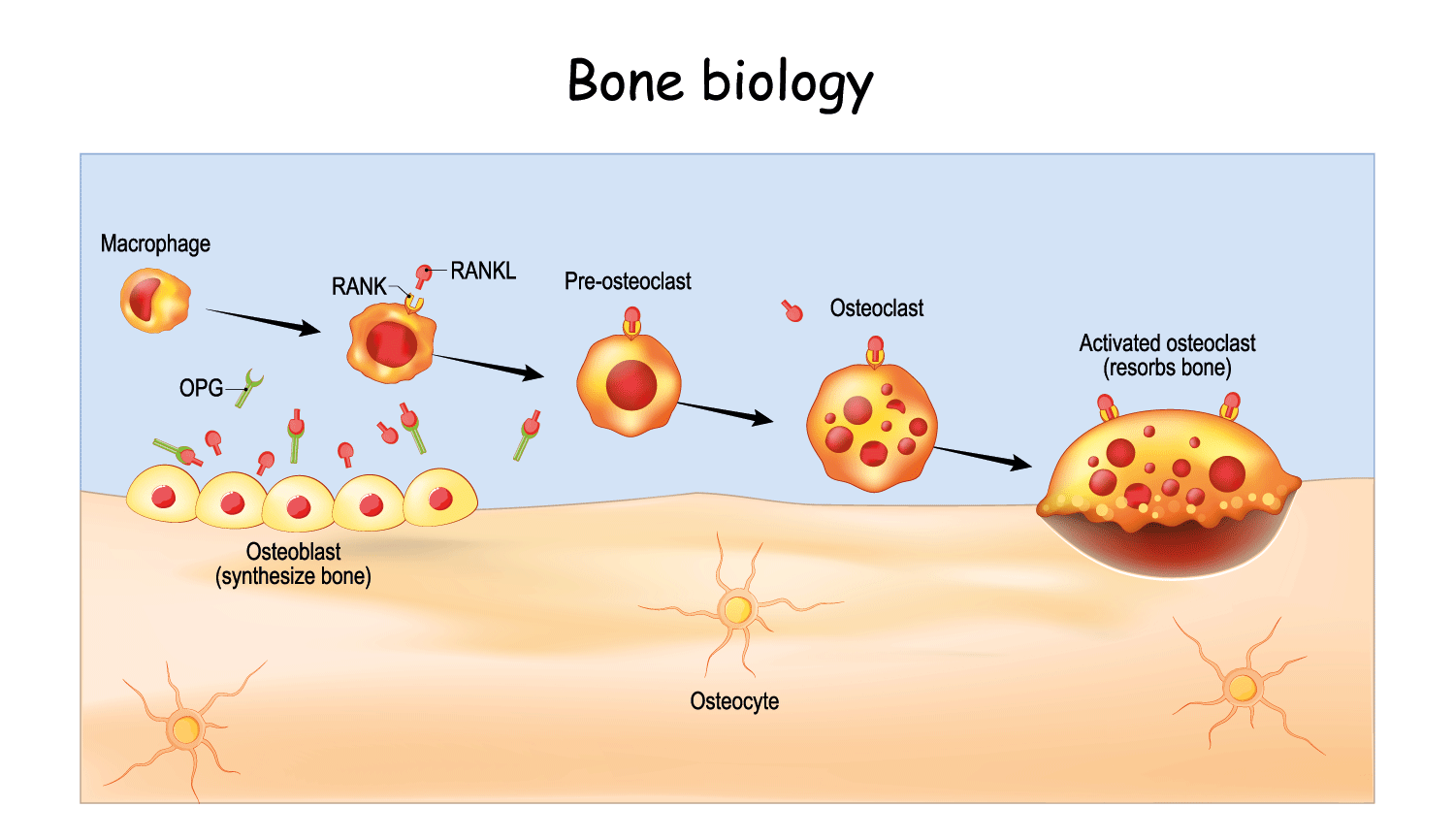 RANKL receptor activator is a mediator of bone resorption and OPG acts as a decoy receptor.
Osteoprotegerin (OPG) is produced by osteoblasts, cells that synthesize bone. OPG is a decoy receptor and binds to RANKL, antagonizing its binding to RANK.
RANKL (receptor activator of nuclear factor kappa-B ligand) is secreted by osteoblasts and binds to the RANK receptor on osteoclast precursor and mature osteoclast cells. RANKL stimulates bone resorption.
Role of Sclerostin, FGF23, DKK-1, and Periostin in bone biology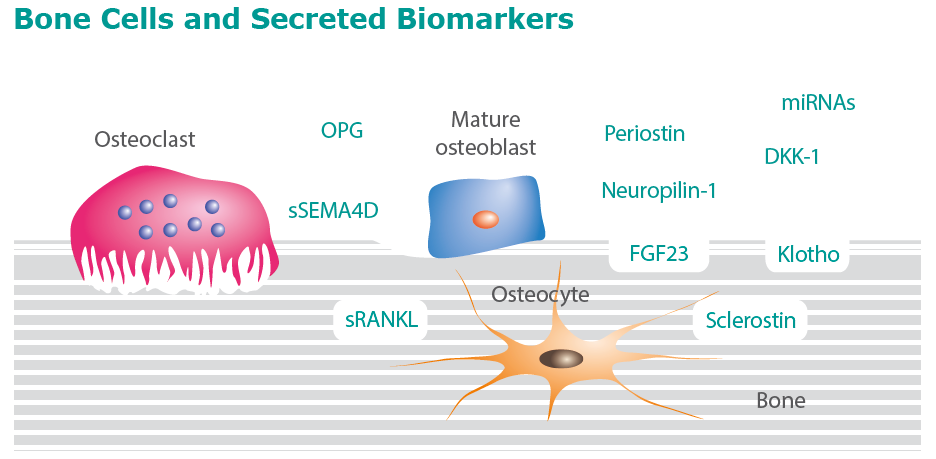 Biomarkers in Bone Biology
Bone cells have been reported to have endocrine functions that affect multiple organs. The most abundant cell type in the bone are osteocytes residing within the bone matrix and comprising 90% to 95% of the bone cells. Osteocytes play a significant role in the regulation of osteogenesis, releasing osteocyte-related biomarkers such as sclerostin (SOST), fibroblast growth factor 23 (FGF23), and Dickkopf-1 (DKK-1).
Sclerostin (SOST) is mainly produced by osteocytes and is considered as the major regulator of bone formation. More recently, Sclerostin has been shown to stimulate the osteocyte synthesis of fibroblast growth factor-23, potentially contributing to the regulation of phosphate homeostasis.
Fibroblast growth factor 23 (FGF23) is a hormone that is mainly secreted by osteocytes and osteoblasts. It regulates phosphate and vitamin D levels and functions as a central endocrine hormone regulating phosphate balance.
Dickkopf-1 (DKK-1) is an extracellular protein. DKK-1 plays a role in the regulation of bone metabolism, as it inhibits the differentiation of osteoblasts.
Periostin (POSTN) is an extracellular matrix protein that is preferentially expressed in the periosteum, a membrane covering the outer surface of bones which is responsible for growth.  Periostin has functions in osteology, tissue repair, oncology, cardiovascular and respiratory diseases, and in a variety of  inflammatory settings (e.g. asthma).
BIOMEDICA OFFERS HIGH QUALITY ELISA KITS FOR BONE BIOMARKERS 
widely cited in over 1100 publications
Sclerostin ELISA (cat.no. BI-20492)
OPG ELISA (cat.no. BI-20403)
RANKL ELISA (cat.no. BI-20462)
FGF23 intact ELISA (cat.no. BI-20700)
FGF23 C-terminal ELISA (cat.no. BI-20702)
DKK-1 ELISA (cat.no. BI-20413)
PERIOSTIN ELISA (cat.no. BI-20433)
RELATED LITERATURE
A Review of the Potential Application of Osteocyte-Related Biomarkers, Fibroblast Growth Factor-23, Sclerostin, and Dickkopf-1 in Predicting Osteoporosis and Fractures. Ramli FF, Chin KY. Diagnostics (Basel). 2020 Mar 6;10(3):145. doi: 10.3390/diagnostics10030145. PMID: 32155909; PMCID: PMC7151094.
Sclerostin Directly Stimulates Osteocyte Synthesis of Fibroblast Growth Factor-23. Wijenayaka AR, Yang D, Ormsby RT, Bonewald LF, Atkins GJ. Calcif Tissue Int. 2021 Jul;109(1):66-76. doi: 10.1007/s00223-021-00823-6. Epub 2021 Feb 22. PMID: 33616712.
Biology of the RANKL-RANK-OPG System in Immunity, Bone, and Beyond. Front Immunol. Walsh MC, Choi Y.2014 Oct 20;5:511. doi: 10.3389/fimmu.2014.00511. PMID: 25368616; PMCID: PMC4202272.
The Osteocyte: New Insights. Robling AG, Bonewald LF. Annu Rev Physiol. 2020 Feb 10;82:485-506. doi: 10.1146/annurev-physiol-021119-034332. PMID: 32040934; PMCID: PMC8274561.