Angiopoietin-2 predicts treatment benefit from regorafenib in patients with metastatic colorectal cancer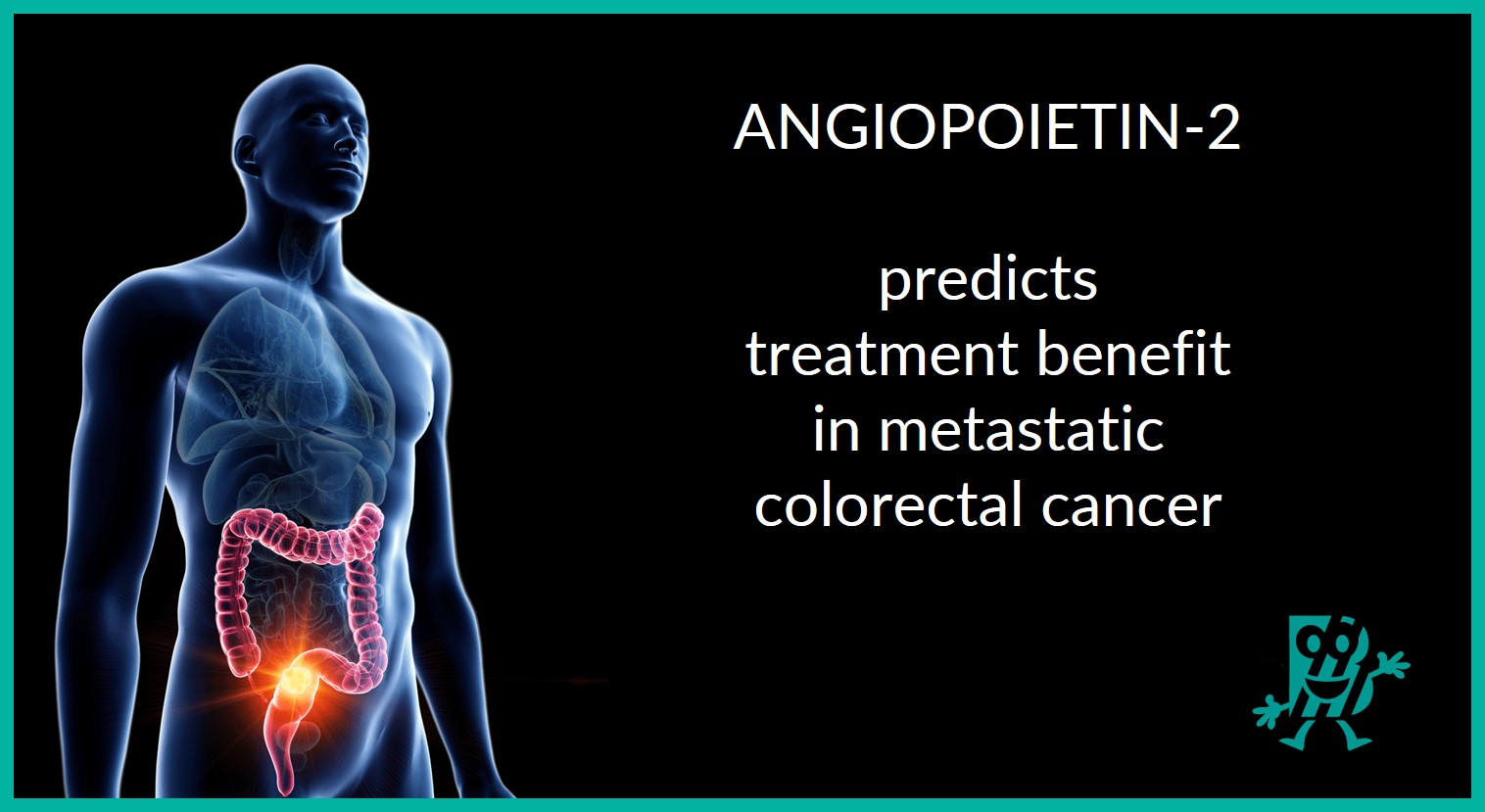 Angiopoietin-2 predicts treatment benefit from regorafenib in patients with metastatic colorectal cancer
27 July, 2022
Baseline Ang-2 plasma levels are an independent prognostic biomarker in refractory metastatic colorectal cancer
Chemorefractory is a term that is used to describe a cancer that does not respond to chemotherapy. Currently, no biomarkers are available to predict the efficacy of chemotherapy in chemorefractory metastatic colorectal cancer. Researchers from Italy have shown that circulating biomarker levels of Angiopoietin-2 (ANG2)  increases early and predicts outcome with regorafenib but not with trifluridine/tipiracil treatment.  Thus, baseline Ang-2 plasma levels are an independent prognostic biomarker in chemorefractory metastatic colorectal cancer. Read more: Early modulation of Angiopoietin-2 plasma levels predicts benefit from regorafenib in patients with metastatic colorectal cancer
Easy measurement of Angiopoietin-2 (ANG-2) in blood samples with only 20µl sample volume.

Check out the Biomedica ANGIOPOIETIN-2 (ANG2)  ELISA kit
√ Full validation package – the assay is optimized for clinical samples
√ Kit includes ready to use standards and controls
√ HIGH QUALITY GUARANTEED  

Related publications

Early modulation of Angiopoietin-2 plasma levels predicts benefit from regorafenib in patients with metastatic colorectal cancer.
Antoniotti C, Marmorino F, Boccaccino A, Martini S, Antista M, Rossini D, Zuco V, Prisciandaro M, Conca V, Zucchelli G, Borelli B, Cosentino P, Germani MM, Bosco MF, Carullo M, Vetere G, Moretto R, Giordano M, Masi G, Pietrantonio F, Zaffaroni N, Cremolini C. Eur J Cancer. 2022. 165:116-124. doi: 10.1016/j.ejca.2022.01.025. PMID: 35231767.
Abstract
Background: No biomarkers are currently available to predict the efficacy of trifluridine/tipiracil (FTD/TPI) in chemorefractory metastatic colorectal cancer. The multicohort REGOLAND study aims at exploring and validating circulating markers potentially able to predict benefit from regorafenib in this setting. Material and methods: In the retrospective 'regorafenib exploratory cohort', including 105 patients treated with regorafenib, baseline (d1) plasma levels of angiogenesis-related biomarkers and their early modulation after 15 days (d15) of treatment were investigated for correlation with clinical outcome. Based on a pre-specified statistical hypothesis, main retrospective findings were prospectively challenged in the 'regorafenib validation cohort', including 100 patients treated with regorafenib. Prospectively validated putative biomarkers were then assessed in the control 'FTD/TPI cohort', including 93 patients treated with FTD/TPI. Results: In the 'regorafenib exploratory cohort', the early (d15) increase of Angiopoietin-2 (Ang-2) was associated with longer progression-free survival (HR:0.57 [95%CI:0.38-0.88], P = 0.004) and a trend towards longer OS (HR:0.74 [95%CI:0.48-1.14], P = 0.165), than the early decrease. Similar results were prospectively confirmed in the 'regorafenib validation cohort' (HR for progression-free survival:0.72 [95%CI:0.48-1.08], P = 0.095; HR for OS:0.77 [95%CI:0.51-1.16], P = 0.204). No predictive impact was shown for the early modulation of Ang-2 in the 'FTD/TPI cohort'. High baseline Ang-2 levels predict poor prognosis in all the investigated cohorts, independently of other clinical prognostic variables. Conclusions: The early modulation of circulating Ang-2 predicts the efficacy of regorafenib. Baseline Ang-2 plasma levels are an independent prognostic biomarker in chemorefractory metastatic colorectal cancer.

Angiopoietin-2 as a Prognostic Factor in Patients with Incurable Stage IV Colorectal Cancer.
Munakata S, Ueyama T, Ishihara H, Komiyama H, Tsukamoto R, Kawai M, Takahashi M, Kojima Y, Tomiki Y, Sakamoto K. J Gastrointest Cancer. 2021.52(1):237-242. PMID: 32166589.